DIY VOW BOOKS FOR YOUR WEDDING DAY
The other day I was perusing the BHLDN website when I saw a pair of cute vow books. Have you heard of these? I didn't even know these were a thing until I stumbled on them, and let's just say now I'm super smitten. My husband and I didn't write our own vows, but having a darling pair of notebooks to write them in might have changed things. So I designed the DIY vow books of my dreams–thick textured cardstock, calligraphy, dreamy ribbon, the works–and thought I would share the template with you for your own wedding.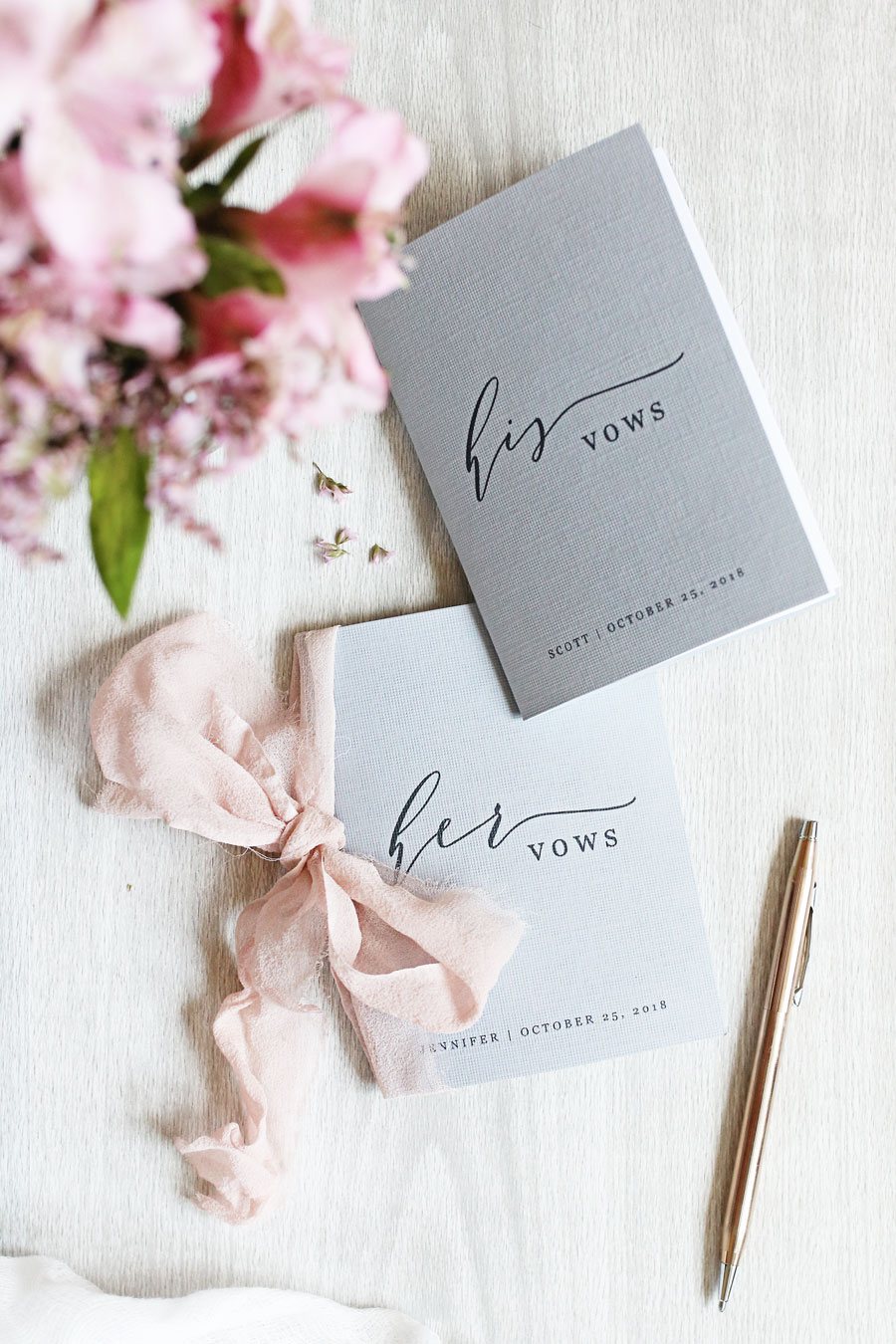 Read on to learn how to make your own diy vow books.
Now that vow books are officially on my radar I have been seeing them everywhere. And while I love the idea, if I were to get married again I would want them to be a little more, well, personal. More like a keepsake than a notebook. Not only are they perfect for writing your vows in, but they can also be used to collect little snippets from your day. Tuck your favorite photos inside along with a bloom from your bouquet, a swatch of fabric from your dress, a love note from your husband and any other memories you would like to keep for posterity.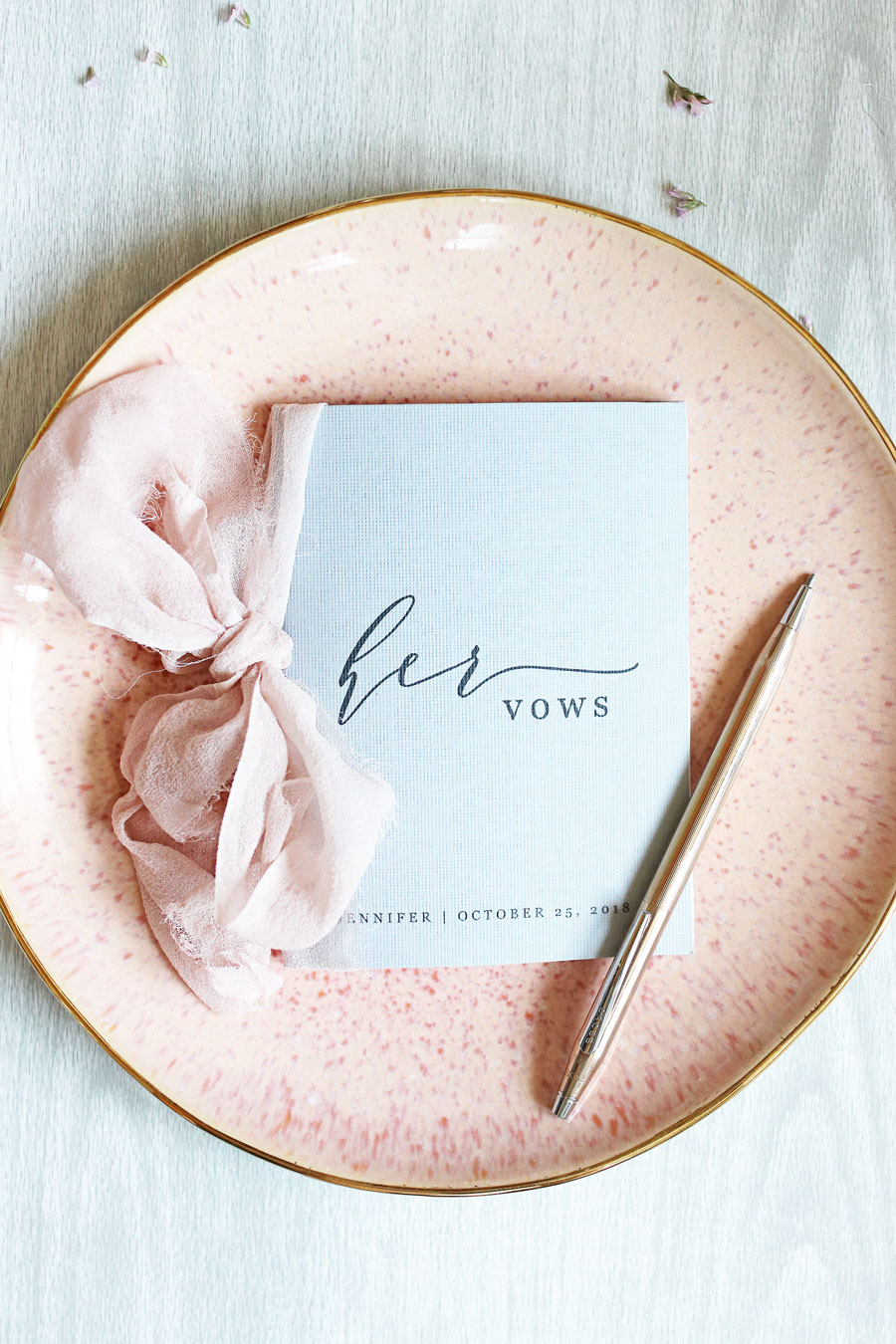 Not only are these functional but they're also darling enough to photograph. I printed mine on basket weave cardstock (I love this stuff so much I also used it for these rose invitations and these save the dates), then stapled the pages together and tied them with a super soft piece of ribbon.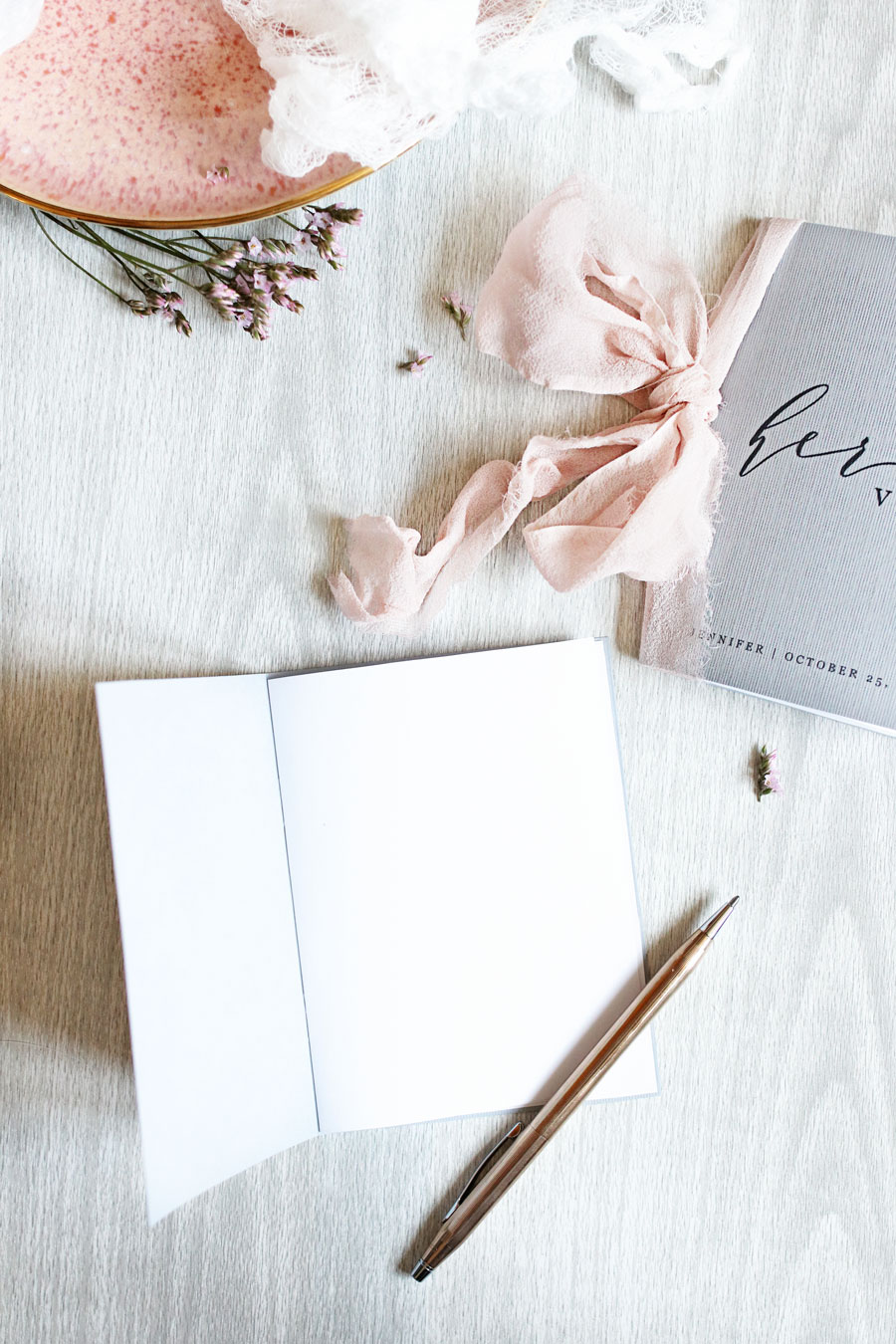 I just love the way the ribbon drapes over the edge of the notebook and flutters when you open it. I can just imagine it catching the light in some couple's ceremony photos and my heart skips a little beat.
To get them down the aisle, you can always give them to your officiant before the ceremony. Or if your father is walking you do the aisle, ask him to tuck the notebooks in his pocket and pass them to you when it's time to say your vows. Talk about a sweet photo opp!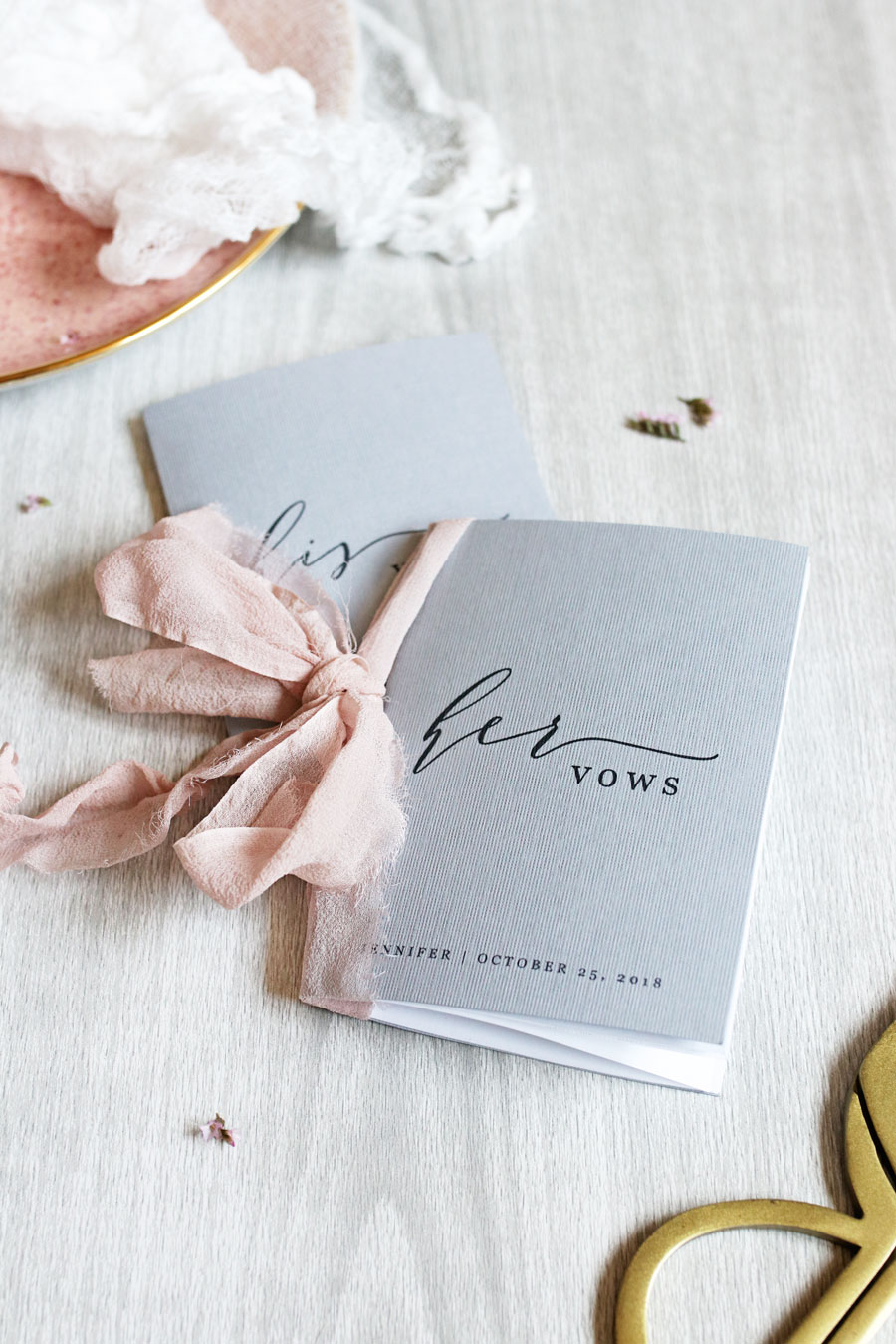 HOW TO MAKE YOUR OWN DIY VOW BOOKS
This tutorial is so easy I didn't actually include any step-by-step photos. I figured you don't need to see me cutting and stapling paper together 🙂 But if you have any questions, let me know in the comments and I'd be happy to answer them!
Supplies
Cardstock (I love the linen stock from Paper and More but here are some other recommendations)
DIY vow book template (Sign up to download yours for free)
Plain printer paper
Scissors
Stapler
Ribbon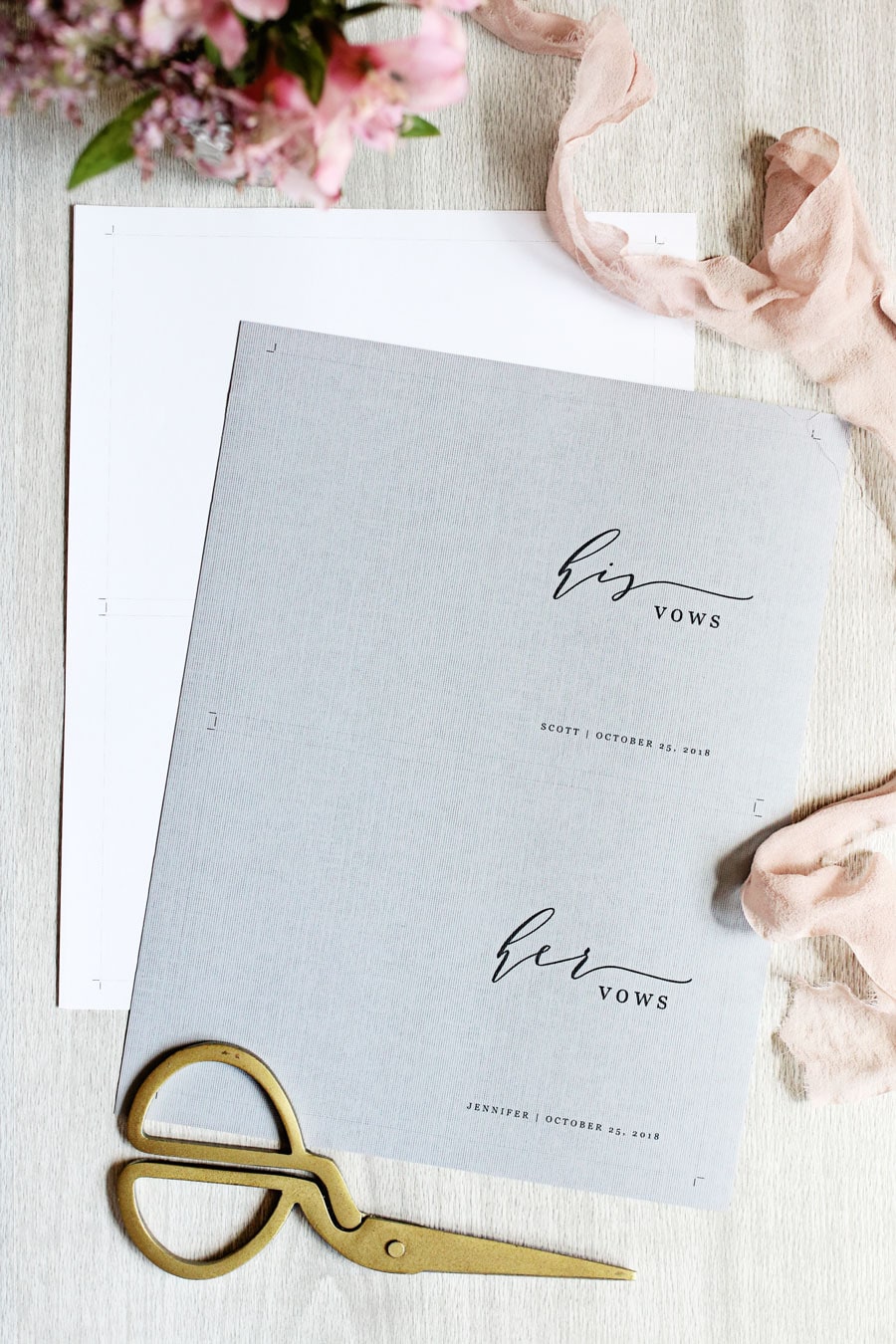 Instructions
1. Download your free vow book template from our resource library. To do so, all you have to do is sign up for the mailing list and confirm you subscription. We'll send you an email with a link and a password to our super top secret freebies section of the site. Click on the link, find the template and download it to your desktop.
2. Open the template in Word and fill in your names and wedding date on page one of the template. Print page one (the notebook covers) on heavy duty cardstock. Then print the remaining pages on regular white printer paper.
3. Trim out your templates.
4. Place one of the covers face down on the table, then lay down 2-3 sheets of white paper. Fold down the middle like a book with the white paper on the inside.
5. Place 2 staples along the crease. Tie a ribbon around the spine of the notebook, and if needed, use a dot of glue or double-sided tape to hold in place.
Ta-da! Profess your love for your S.O. in style and cherish these babies for years to come.