FREE VELLUM SAVE THE DATES
Hi, my name is Stephanie and I 'm addicted to creative save the dates.
Few things set the tone for your wedding quite like a unique save the date. Whether it be a series of photos on a photo booth strip or a card with a mini pencil attached (you know, so you can "pencil them in"–ha!), the cleverness gets me every time.
But clever doesn't have to mean expensive or time consuming. My favorite way to add interest and beauty to simple save the dates is by layering vellum overtop a gorgeous cardstock. Not only is it insanely easy, but you can print them on your home printer and assemble them in less than an hour. Then tie everything together with a teeny gold brad and tuck them in festive envelopes before popping them in the mail.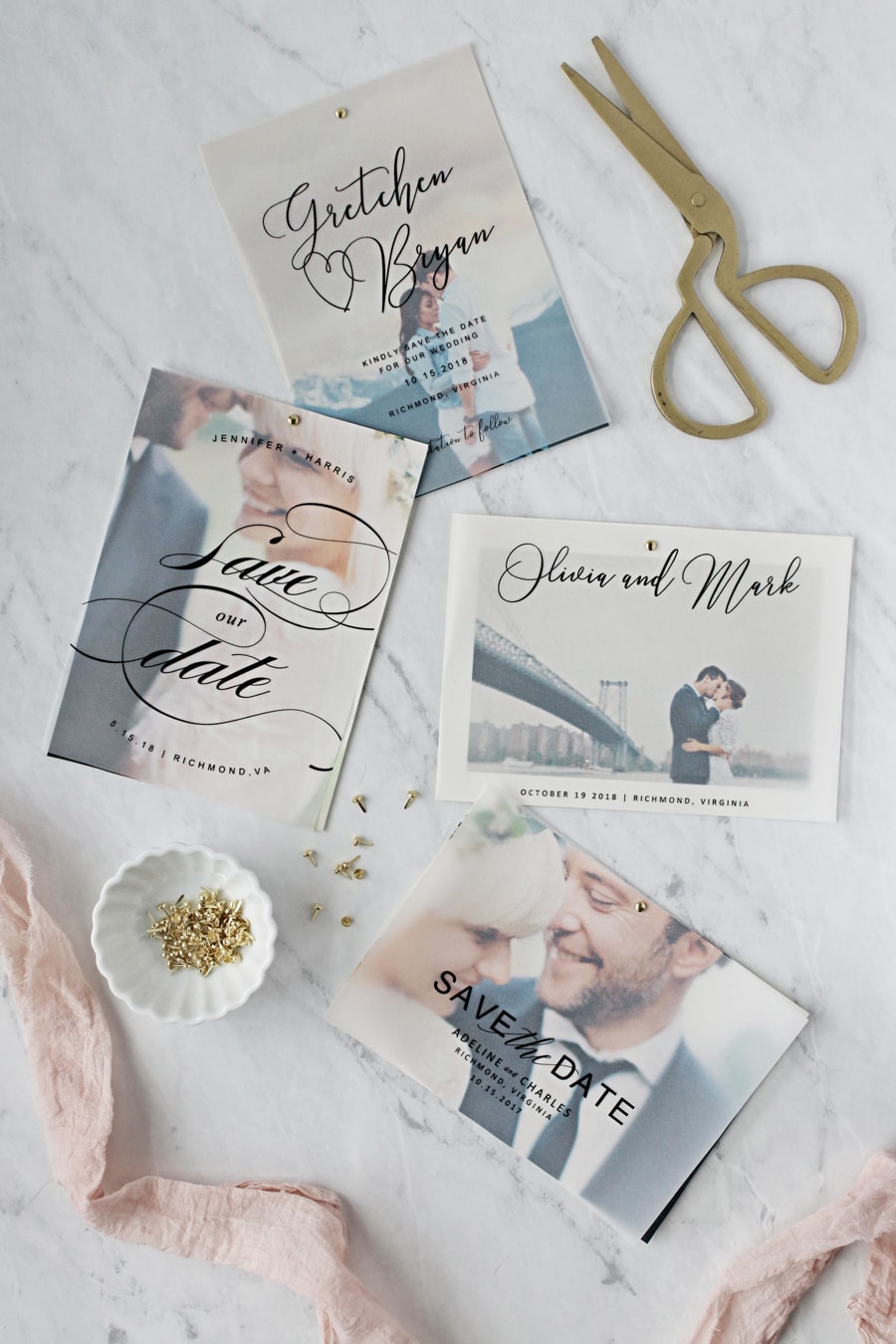 And the best part? We're giving away the template for free and your guests will love them.

HOW TO MAKE VELLUM SAVE THE DATES
The sky is the limit when it comes to DIYing your own vellum save the dates. All you really need to get started is a template (don't worry, you can simply sign up below to get ours for free!) and some high-resolution photos of you and your main squeeze. Add in your details and print. That's it!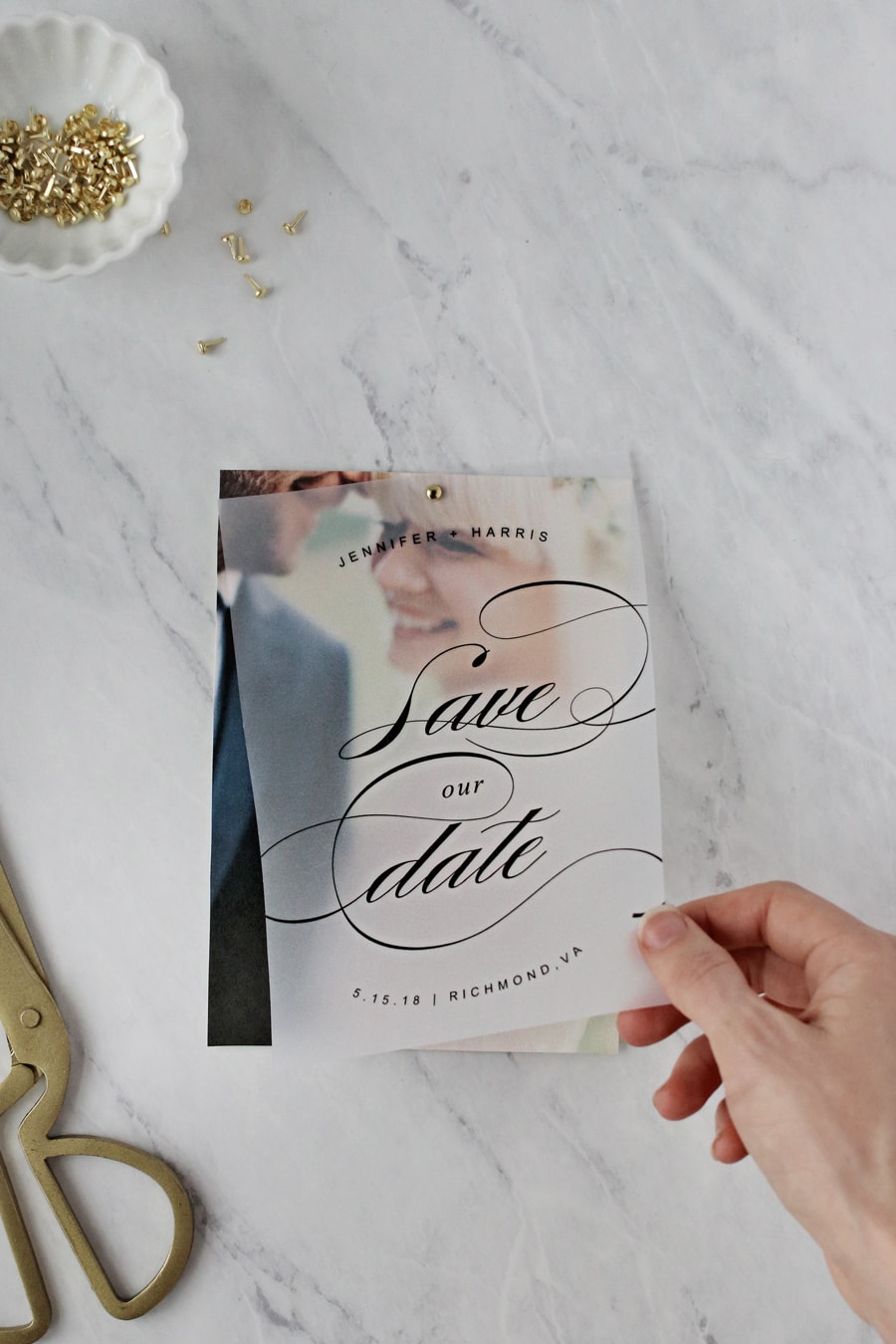 But for those of you who need a little more help, here's the step-by-step to get you started.
Materials
5×7″ Save the Date template (Sign up to get yours free)
Cardstock (we love this 80# linen or 118# cotton. Or checkout our cardstock guide)
Vellum (this 29# vellum prints like a dream)
Gold brads
Paper cutter, scissors or X-acto Knife
A7 envelopes

Pssst. Want to test out the cardstock first? You can save 5% on all sample packs at Paper and More when you use the code pipkinpaperco_referral at checkout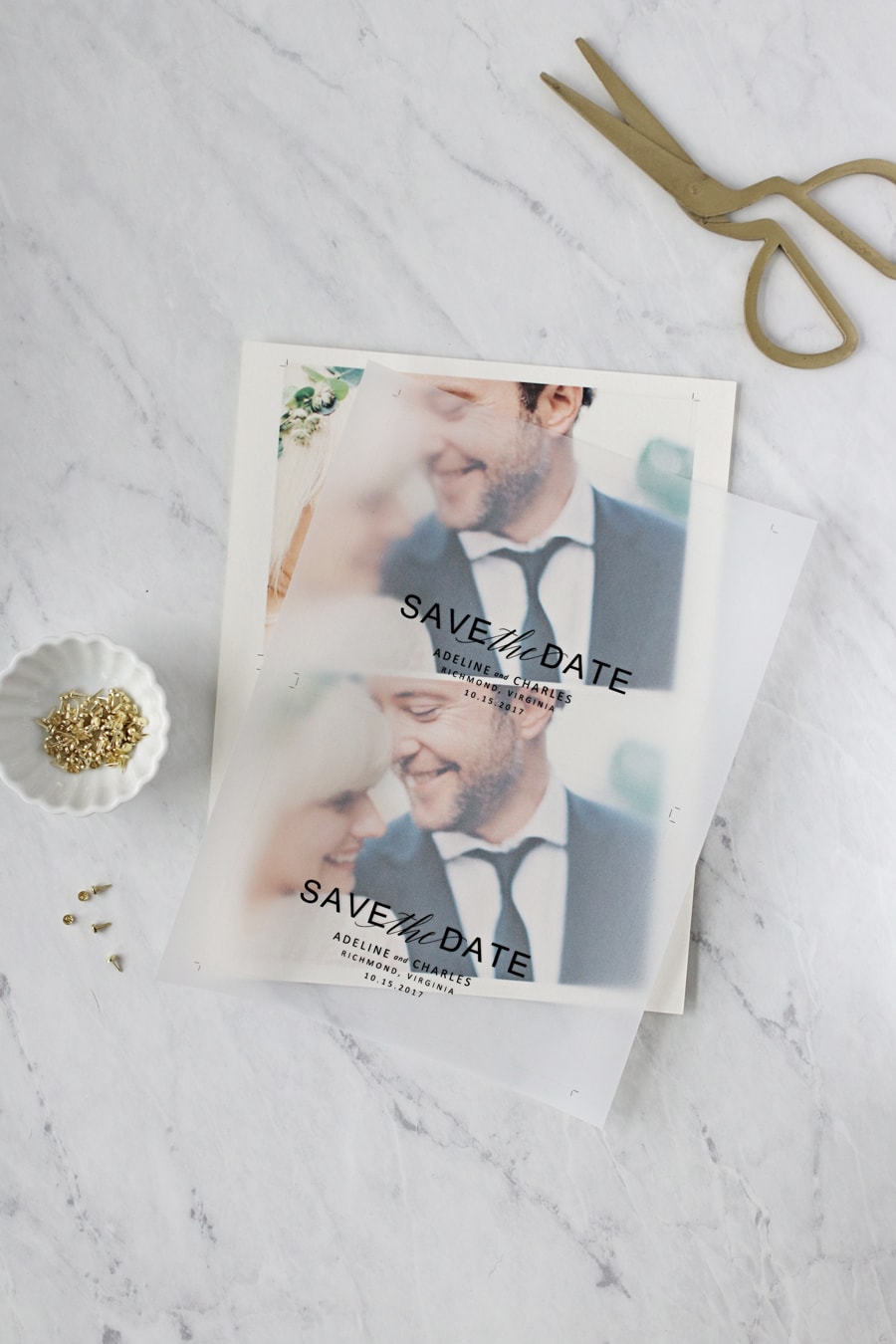 Instructions
Start by downloading your free template and filling in your details. You'll need Microsoft Word to edit the template, but if you don't have it you can get a free trial version here.
Set your printer to high/photo printing, and print your save the date details on vellum and your photos on cardstock. If you need more help printing your invitations, check out our Printing Guide.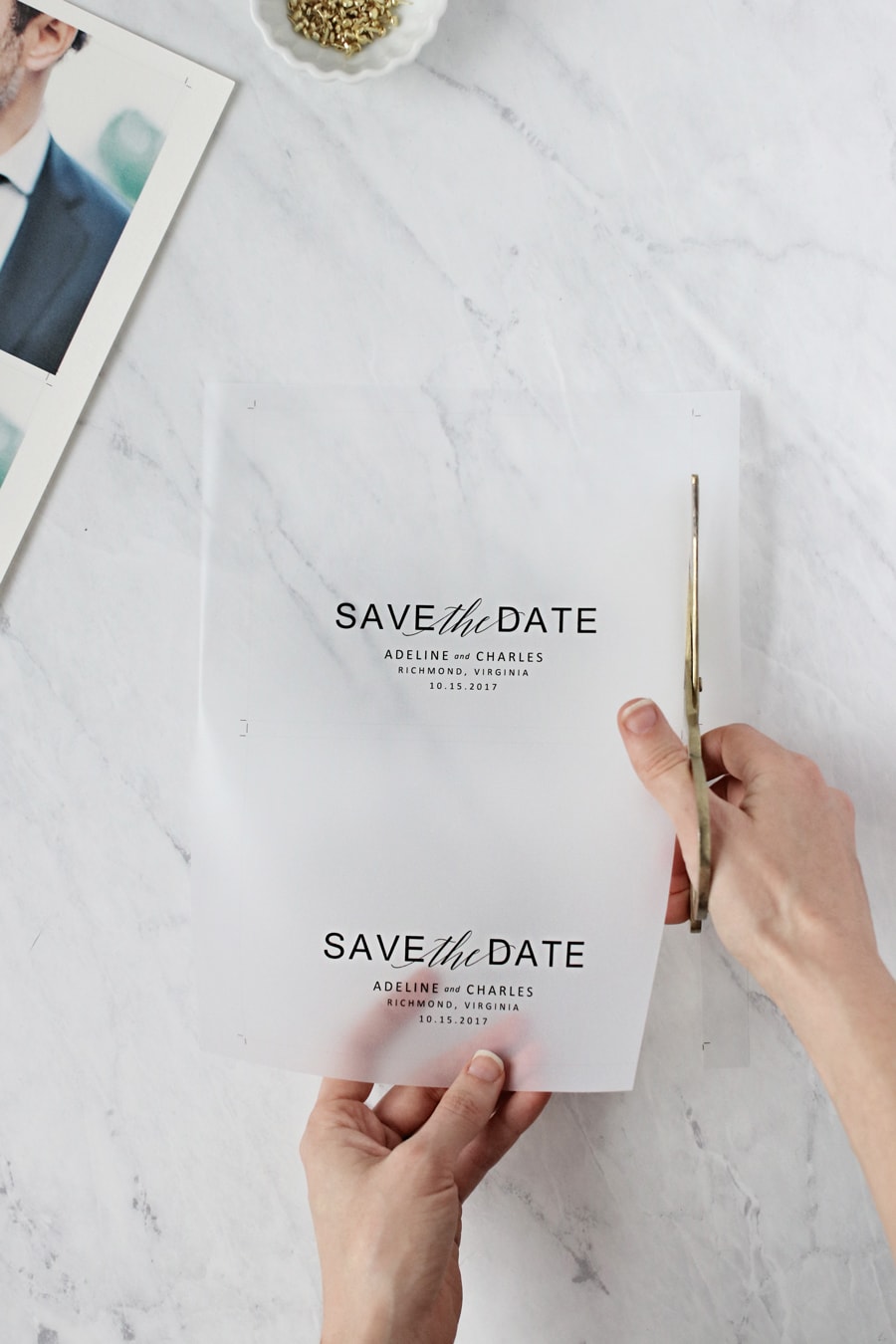 Trim your templates, then layer a sheet of vellum on top of one of your photos. Use the pointed end of the brad to make a small hole along the top center of your card. If you need extra help getting through the two layers of paper, use the pointed end of a sharp knife or a pair of scissors to make a hole. Pry apart the tabs of the brad and flatten to secure.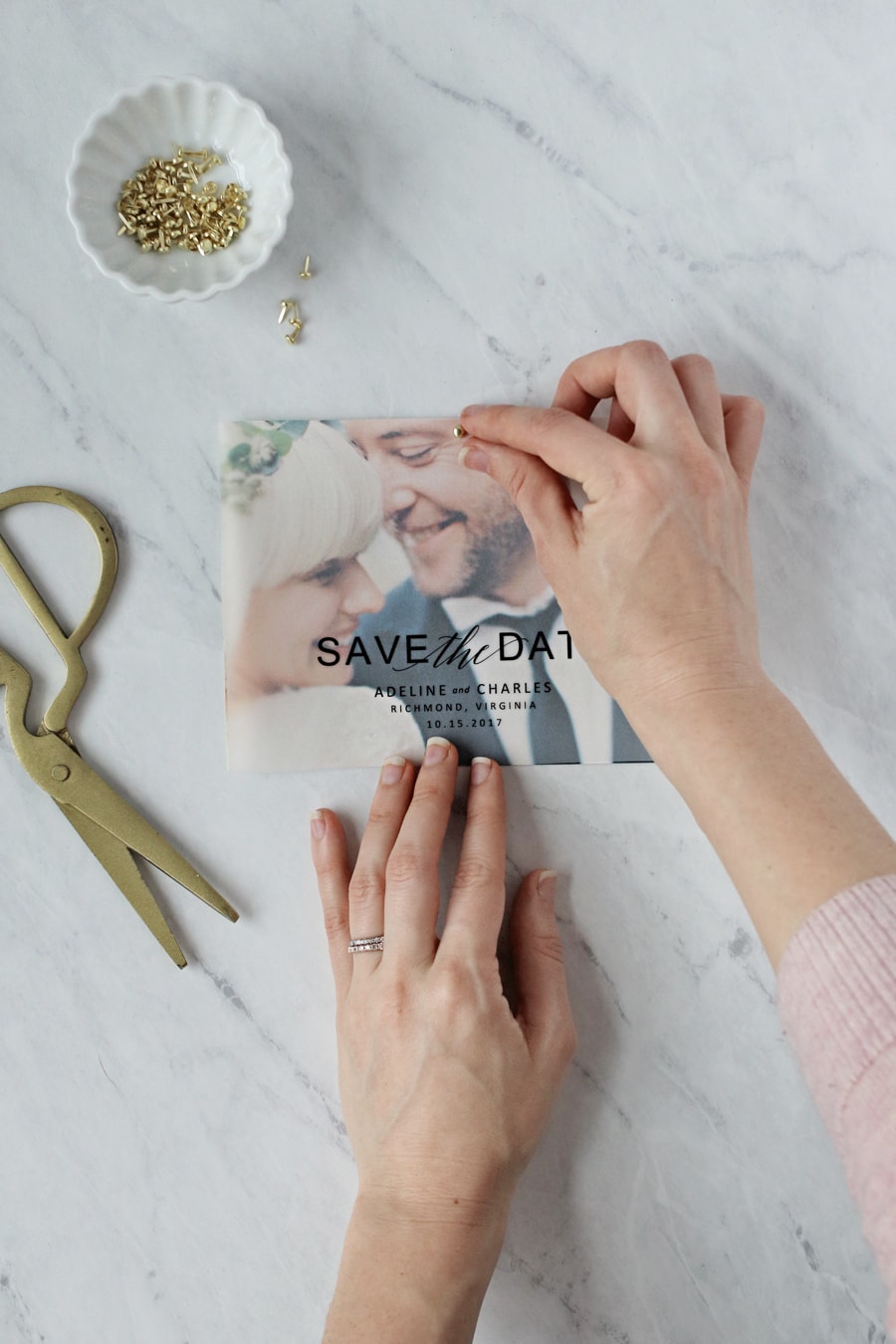 That's it! They seriously couldn't be easier to make. Simply pop them in an A7 envelope and mail to your guests.
Here are some of the other vellum save the date templates we have in the resource library: