THE ULTIMATE GUIDE TO CARDSTOCK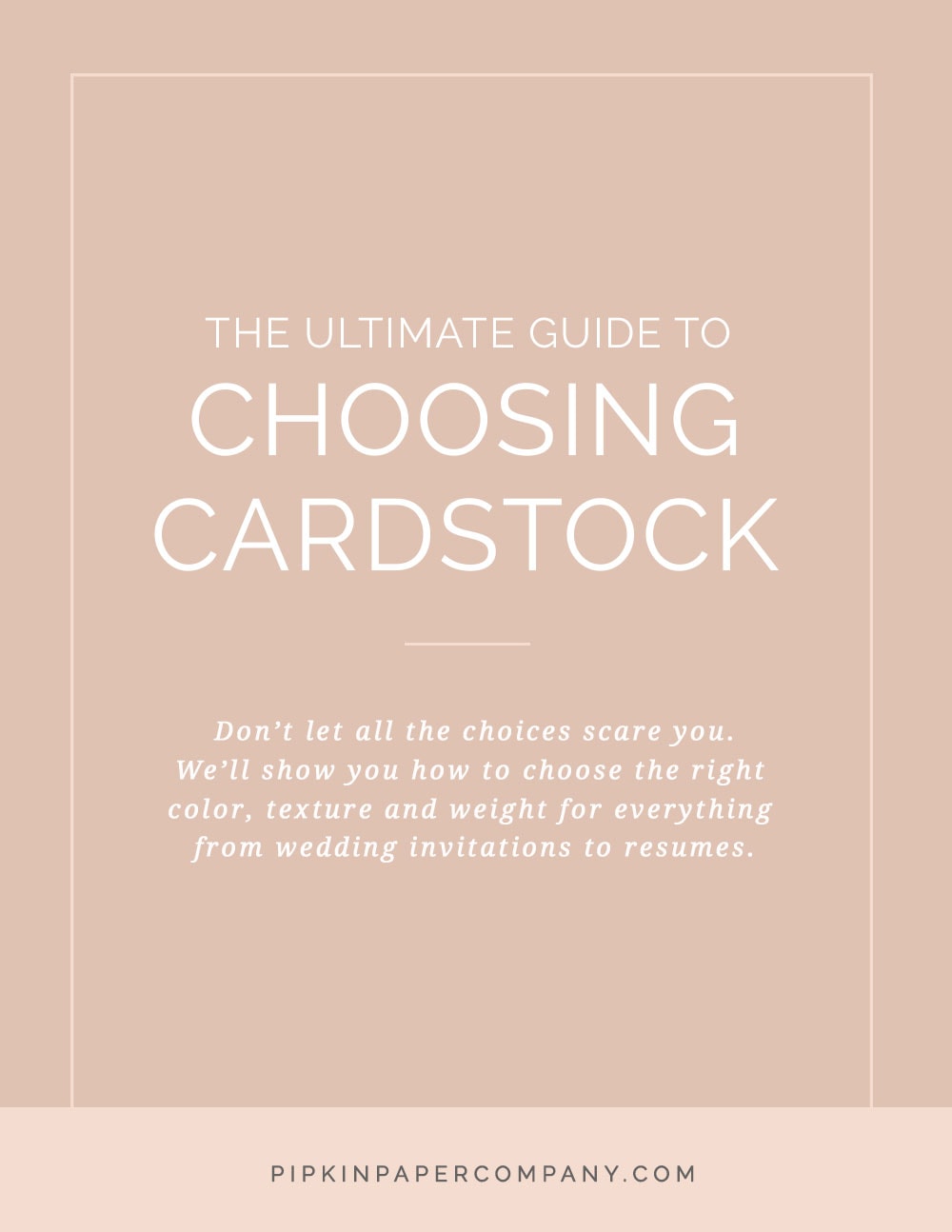 When you run a paper company, one of the most common questions you get asked is, "what kind of cardstock should I use for…" x, y, and z. And quite frankly I love this question because there are few things I love talking about more than cardstock (give me all the cardstock!).
But with this question comes both good and bad news. Which would you like to hear first? The bad? Okay then, here goes: there is no easy one-size-fits-all answer to the cardstock question. Since printers, ink and template designs vary so much, there is no ideal cardstock to use at all times. What looks great on one printer might look splotchy and washed-out on another. It's unfortunate, but it's the truth.
But now the good news: choosing cardstock is easy and fun if you know a thing or two about cardstock and  you're willing to play around with the process. Selecting the right cardstock involves a bit of trial and error that is better done on the exact printer you'll be using to print your invitations. Rather than fixating on finding the right wedding paper, simply find the one that's the right weight and texture for your printer.
Lucky for you there are some tried-and true-tricks that make finding the right wedding paper easier. Read on and I'll tell you everything you've ever wanted to know about cardstock so you can pick the perfect paper for your invitations, enclosures and day-of paper goods.
Ready? Let's do this.
WHERE TO BUY YOUR CARDSTOCK
There are a lot of different places to buy quality cardstock, but my favorite is an online shop called Paper and More.
I am in no way sponsored by them and they aren't paying me to write this article (they don't even know I'm doing this). I just love them so much I want to shout it from the rooftops.
That beind said, I am enrolled in their affiliate program and if you buy their cardstock using my links I will receive a small kick back. This doesn't cost you anything, it's a just a way of keeping this blog running and the DIYs flowing, so thank you! But you are in no way obligated to purchase using my links—I still love you just the same.
One of the things I love most about Paper and More is that they stock almost every type of cardstock you can imagine in a ton of different colors and they let you sample the paper without having to buy it in bulk. And for all the reasons I mentioned in the intro, trying before you buy can be super helpful. You can buy as many different samples as you like (for about $.50 a sheet!), and shipping only runs $1.00 no matter how many you buy.
To purchase a sample set of cardstock, pockets and envelopes cost me less than $14 including shipping and it arrived in the 3 days flat. Seriously, they're awesome.
[Update: I have recently partnered with Paper and More to get you a discount on all sample packs and printing services. Simply enter pipkinpaperco_referral at checkout to save 5% on your order!]
HOW WILL YOUR INVITATIONS BE PRINTED
Your choice of printer has a lot to do with the final quality of your invitations. A lot of brides I work with use their home printers to print their invitations, and because it's quick, easy and super affordable, I think home printing is often the best option. But I also recommend talking to a local printer if you want to outsource the printing or step up the quality.
Home Printing
If you're printing at home, just know that desktop printers are often limited in the weight of cardstock they can handle.
---
The best way to determine the maximum weight of paper your printer can handle is by reviewing your printer's instructions, and then simply test printing cardstock of various weights.
---
Personally, I throw caution to the wind when printing on my home printer. I have run everything from vellum and 120# cardstock to fabric and watercolor paper through my printer without any problems. So don't be afraid to try it out and see what happens. Simply start with thinner cardstock (around 80#) and work your way up until your find a weight that starts causing issues like smudging or jamming. And then move down a weight.
Some tips for printing at home:
Set your printer to high quality. Make sure your printer is set to "photo" or "high" quality to get the crispest, most professional looking invitations
Use textured cardstock. Since inkjet printing can sometimes look a little "fuzzy", I like to use textured cardstock to hide some of the imperfections. My favorite textured cardstock is this linen stock from Paper and More. It looks just like linen fabric and it will give your invitations the most beautifully textured finish.
Start at 80# and work your way up. I talk about weight a little later in the post, but just know that the heavier the cardstock, the more professional your invites will look. Typically 120# is the gold standard for wedding invitations but your home printer might have a hard time handling paper that thick. So start testing various papers at 80# and work your way up to somewhere in the neighborhood of 100-120#, if possible.
Printing at a local print shop
A local print shop like Kinko's or FedEx Office can provide professional quality print services at a fraction of the cost of boutique printing. They often use high-end laser printers which can create crisp, clear invitation prints, but it also comes with a few drawbacks.
Here are some things to keep in mind when choosing a local printer:
Not all printers or locations print the same. I have had two different Kinko's locations provide two very different print qualities even though they both used the same paper and printers.
Laser printers apply a layer of ink on top of the paper. Usually this doesn't present any problems but on some types of paper, like shimmery cotton or vellum, the ink can flake off.
They often won't print oddly sized stationery or envelopes. Outsourcing your printing to Kinko's or FedEx is great if you plan to print your invitations on 8.5×11" sheets and trim them down. They might also be willing to print on pre-trimmed 5×7" cardstock if you supply it yourself. But I have heard from several customers that some locations have refused to print on envelopes or small, oddly-sized cardstock because it might jam their machines.
The tips for printing at a local print shop are similar to my tips for printing at home. Here's how to get the most out of your invitations:
Save your invitations as a high-quality PDF on a thumb drive. Once you have filled out your templates, save them as PDFs with the highest resolution possible (how to do this will vary based on your software, so Google instructions if you're unsure) on a portable thumb drive.
Use cardstock with a smooth texture. I have had some bad experiences laser printing on textured paper. Because laser printers apply a layer of ink on top of the paper, sometimes too much texture can cause problems. I like to stick to a thick cotton cardstock which is smooth, but not slick. This kind is my absolute favorite.
Start at 100# cardstock and work your way up. The industrial printers at a commercial print shop can typically handle thicker paper. I would select anywhere between 100# and 120# cardstock to start, and then go thicker if possible.
Always do a test print first. If you go early in the morning before the print shop gets crowded, someone at the full-service print counter will typically be happy to help you print a few invitation samples. This is the best way to see exactly what your invitations will look before investing in premium of paper.
CHOOSING A PAPER TYPE
Okay, now that we have some of the printing basics down, let's talk about paper. Cardstock varies by material, texture, feel and price, so here is a rundown of each of the different types.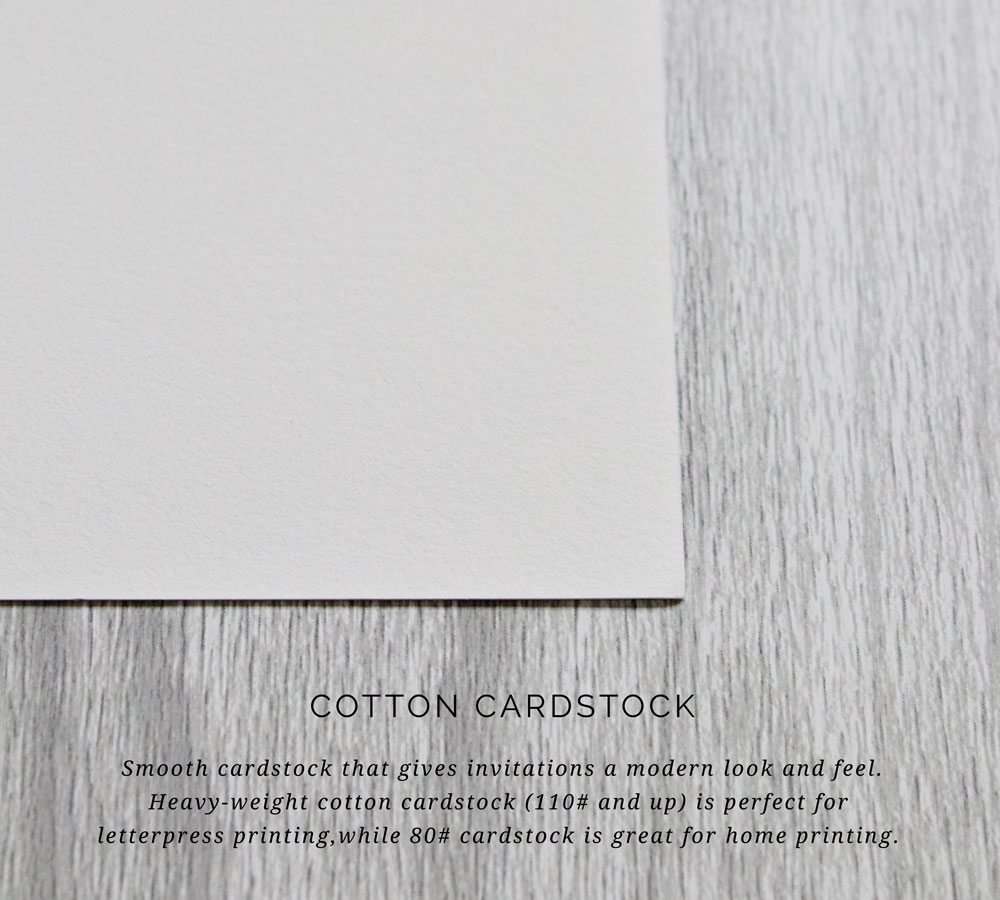 Cotton cardstock is relatively smooth to the touch but still highly absorbent (unlike vellum or shimmery cardstock) which makes it my favorite for laser printing. It gives wedding invitations a clean, modern look and feel. It's also considered to be "photo safe" which means it will keep better in your scrapbook and wedding albums for years to come. Unlike some of the other types of cardstock, cotton only comes in 3 colors (white, ivory and gray) so your choices are limited, but the colors are perfect for classic invitations. Cotton is slightly more expensive than other types of cardstock, which is due to the weight (it starts at 92#) and fiber density, but it also looks more professional than other types.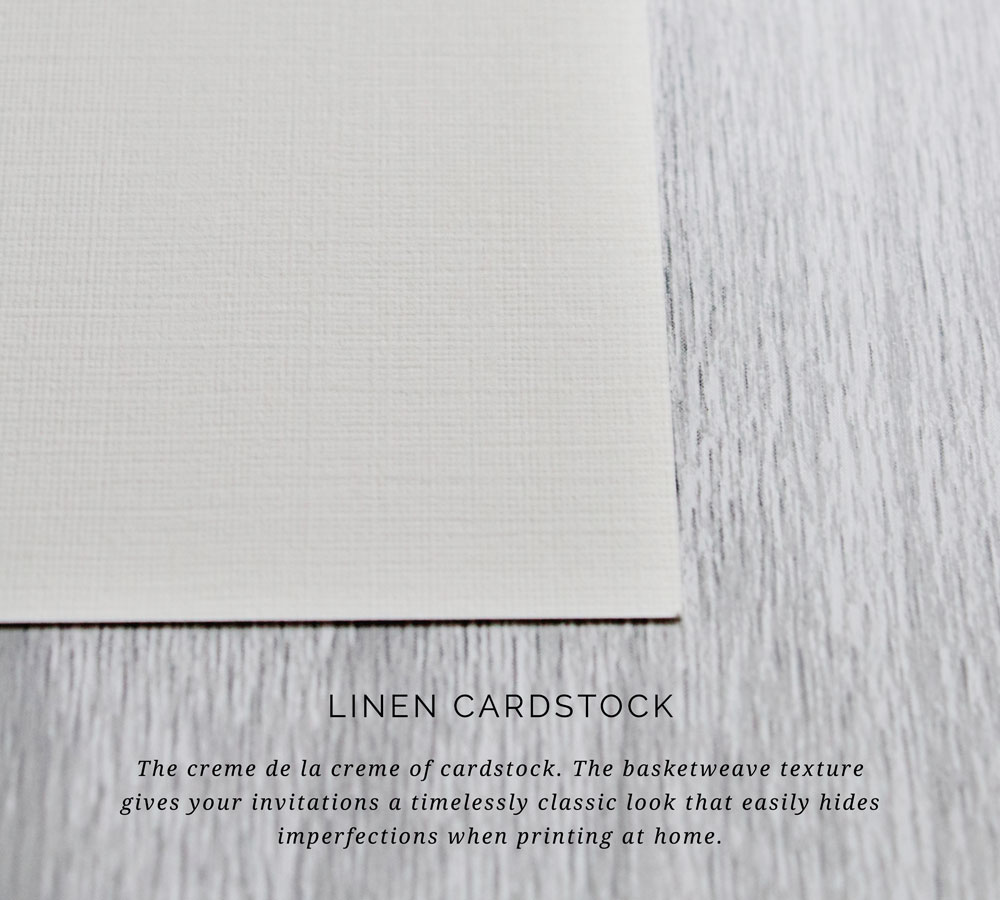 Next to cotton, linen cardstock is my favorite. It's made to look like linen fabric with the same delicate texture and matte finish as woven linen. The basket weave texture is perfect for hiding imperfections or quality issues that you might run into when printing at home. It also adds some visual interest to otherwise simple invitations. Colors are a little more varied than with cotton cardstock, but they're still rather limited.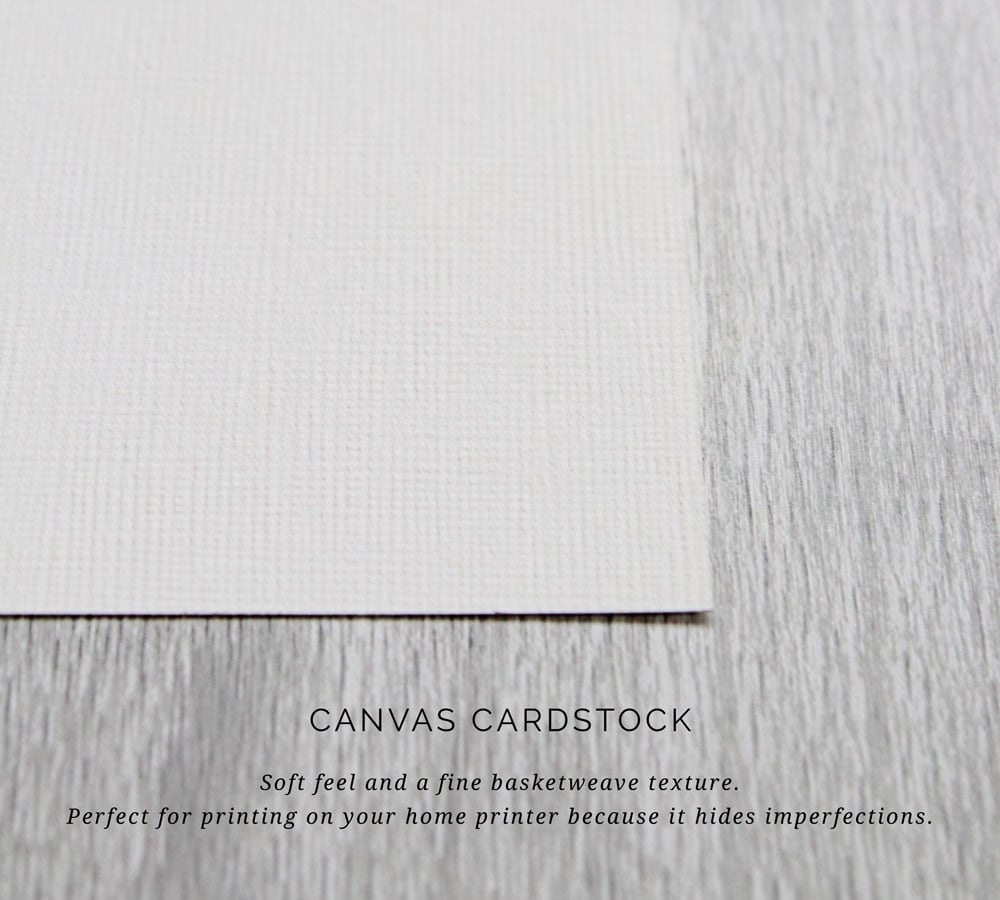 Like linen, canvas cardstock also has a textured feel to it, but the texture is a little more noticeable than with linen. While it feels thick and substantial, at 80# it's still thin enough to go through most home printers without jamming. Because the basket weave texture is rather prominent, it pairs beautifully with lighter, more delicate envelopes and vellum.
Parchment ($15 for 100 sheets)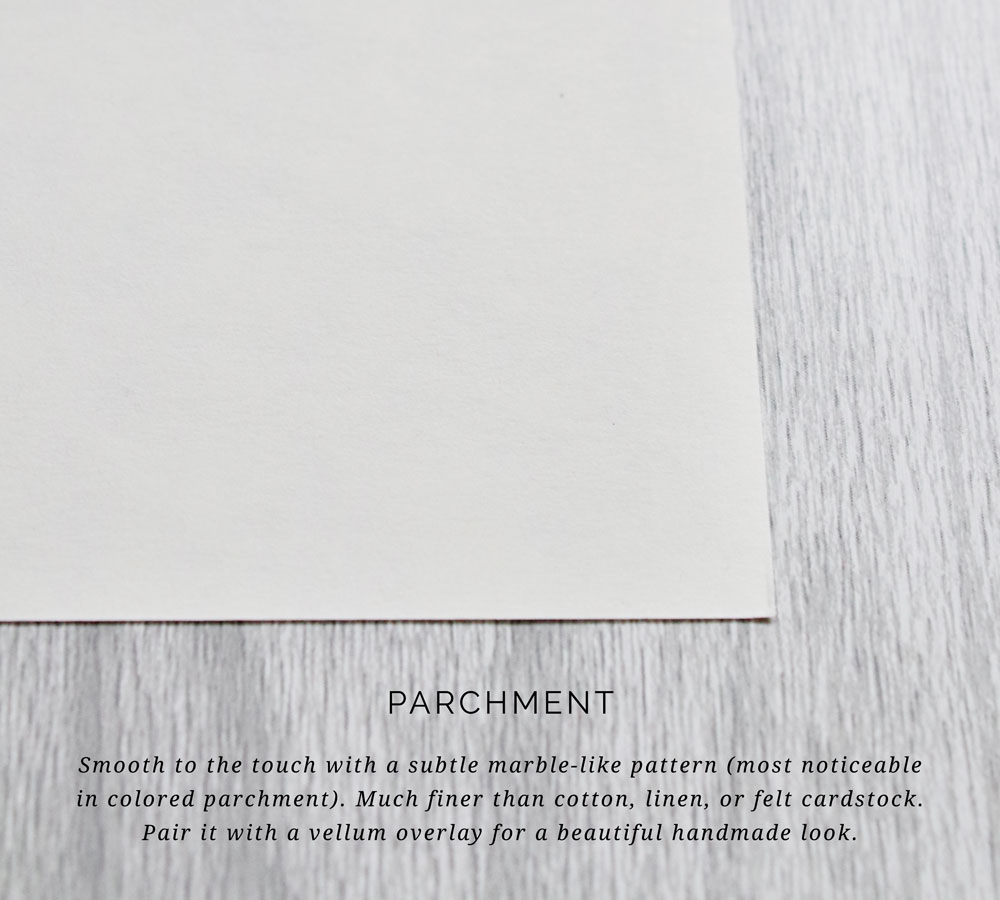 Parchment is a thin, semi-translucent paper that has a slight marbled look to it. It's subtle and soft, and although it isn't very thick (it only comes in 65#) it layers nicely with vellum or cotton cardstock to add depth. I love parchment for spring weddings and small, personal weddings that want a unique touch.
In the world of cardstock, felt is unique. It's a thick cardstock that has a texture somewhere between cotton and canvas—smooth and yet coarse. The lowest weight it comes in is 110#, so it's not ideal for all home printers, but if you can find the right printer it gives invitations an air of sophistication. Pricewise, it's comparable to cotton cardstock.
Kraft ($20 for 100 sheets)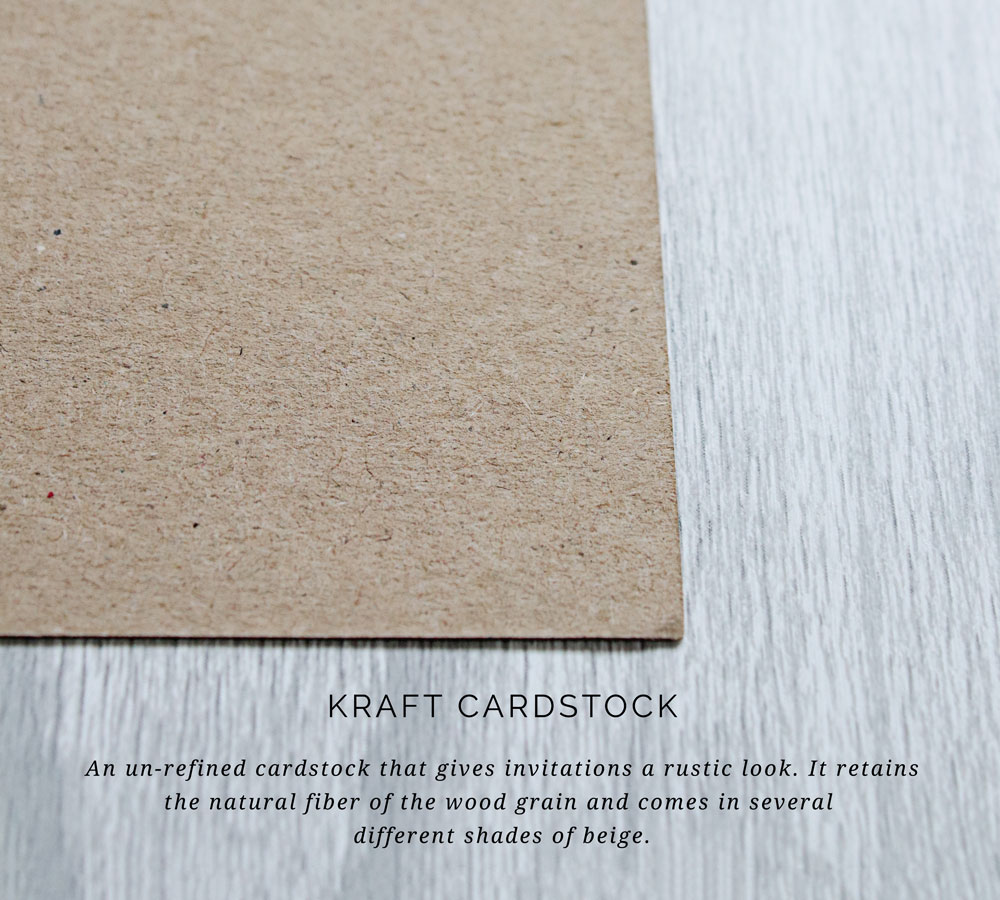 Kraft, or recycled cardstock, has a rustic, on-trend look that I've been seeing more and more of lately. It resembles the coarse paper used for brown grocery bags, only thicker and more polished. It's smooth to the touch but still has a textured, fibrous look that's perfect for vintage or outdoorsy weddings. It comes in a variety of colors and looks beautiful when layered with a soft, translucent paper like vellum or parchment.
Vellum ($17 for 100 sheets)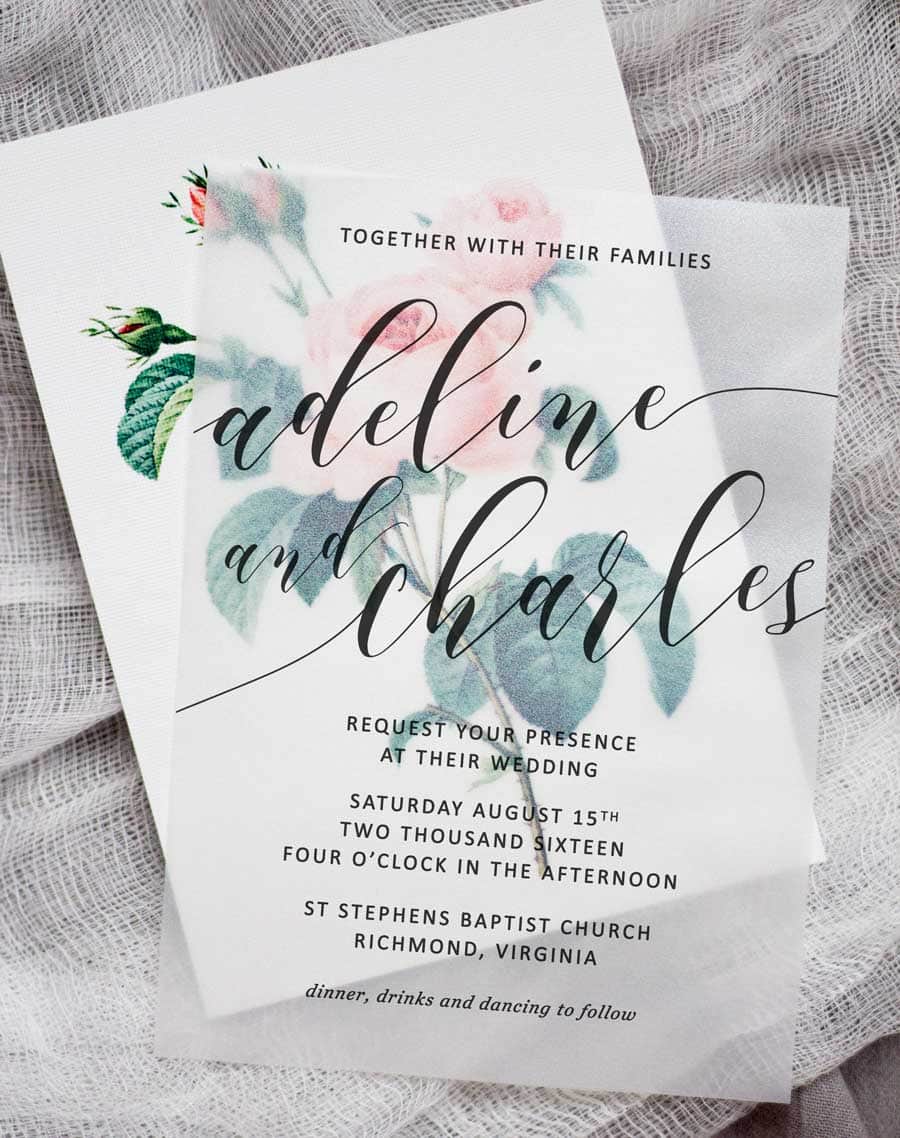 Another one of my favorites, crepe-paper thin vellum looks gorgeous layered over an illustration, artwork or a photo. Because it's translucent it adds depth and interest when layered over an illustration or pattern that ties into your big day. I love to print the invitation details directly onto the vellum itself, but if you do this, I recommend layering it over a thicker paper for support. Or you can try overlaying un-printed vellum on top of your invitations to add subtle depth without the trouble of printing.
These DIY vellum invitations and save the dates we did are some of the most popular posts on our blog. Check them out for incorporating vellum into your invitations.
While I love the vellum at Paper and More, Paper Source has vellum specifically designed for inkjet printers.
CHOOSING A PAPER THICKNESS
Once you have your paper selected, it's time to choose the weight.
In the U.S., cardstock is measured in pounds (also shown as "#" or "lbs"), whereas in Europe cardstock is measured in grams per square metre (or 'gsm'). While the American system is less unified and uses a different weight for different categories of paper (ie. cardstock, text paper, etc), since we're based in the U.S. we're going to be talking in terms of American pounds. Just note that when it comes to paper weights, a sheet of 80# text paper is totally different than 80# cardstock paper. This can get confusing when purchasing paper from places like Amazon, so always make sure you're buying cardstock.
Cardstock weight ranges from 45# to 200# or higher. While it comes in varying weights, the feel of cardstock most closely resembles that of a post card or business card. It's sturdy and doesn't bend easily, which makes it perfect for wedding stationery.
---
A good rule of thumb is the higher the weight in pounds, the thicker the cardstock. The thicker the cardstock, the better your invitations will look and feel, especially if you're printing them yourself.
---
Cardstock weight is a personal choice which depends on budget, preference, and the overall tone you want to set for your wedding. Here's how the different weights stack up.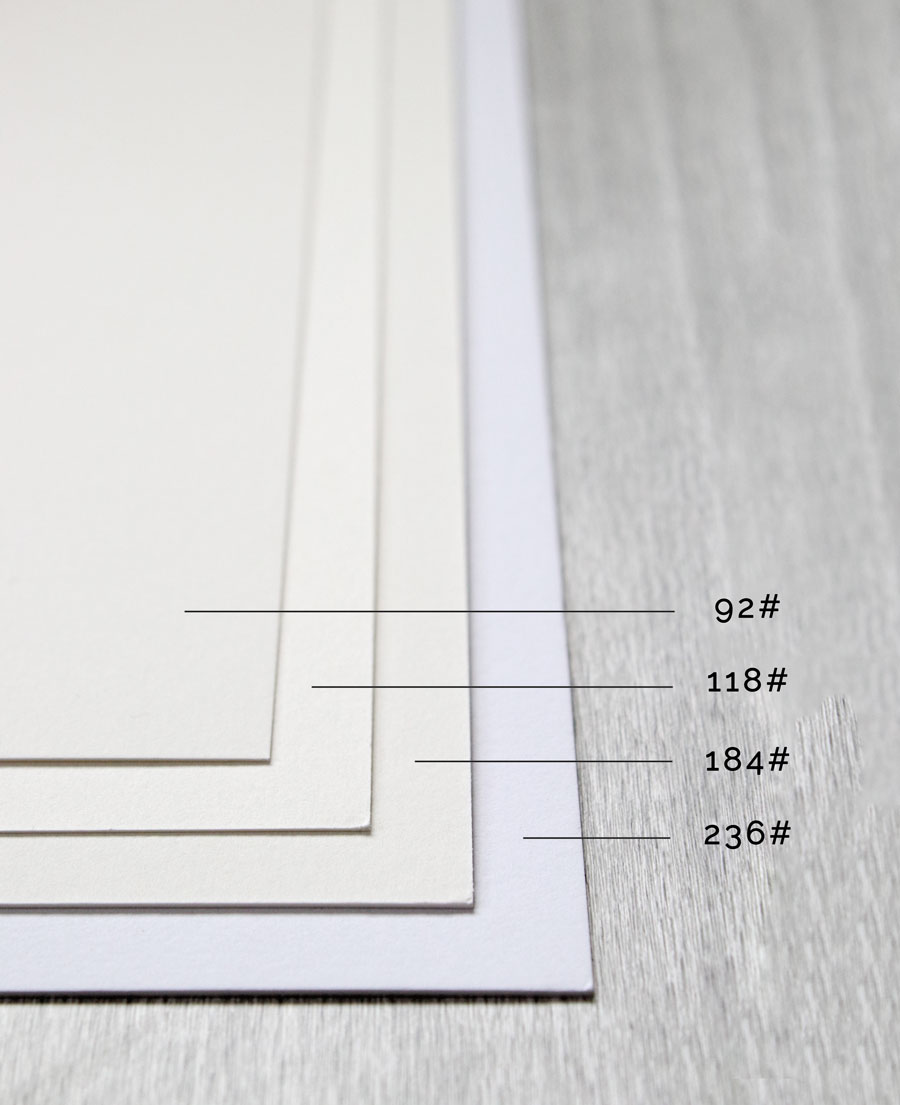 80 – 90# is ideal for most home printers. While it's a little on the thin side, it can go through home printers without so much as a hiccup.
100# can go through some home printers while causing problems in others. It's heavy enough to give your invitations a professional look while still allowing you to mail your invitations with a single stamp.
110 – 130# is the heaviest you can probably print yourself, and even this might require industrial inkjet printers like those at Kinko's or FedEx. But this weight will also so give your invitations the most professional look. If you can print this high, I recommend you do!
150# and up should be reserved for professional printers, embossers, and letterpress printing.
LAST BUT NOT LEAST, TEST PRINT!
I seriously can't stress this enough 🙂 Even after you've selected your dream cardstock, buy a few different weights, colors and materials just to be safe. Then take them to your local printer or do a quick test print at home and compare them side by side. You might just be surprised which one you like more!
SAVE 5% ON ALL SAMPLE PACKS AND PRINTING SERVICES
Ready to purchase cardstock? Simply enter pipkinpaperco_referral at checkout to save 5% when you purchase sample packs or printing services at Paper and More.
---
Still have burning cardstock questions? Leave them in the comments section and we'll do our best to help answer 'em.