DIY FLORAL WEDDING INVITATIONS
One of the best things about printing your own wedding invitations is that you often have the freedom to make them look however you want. Even if you don't consider yourself the craftiest of brides, you can still make beautiful, personalized invitations simply by starting with a design you love and choosing interesting papers that look amazing when layered. That's essentially what we did with these sweet floral wedding invitations.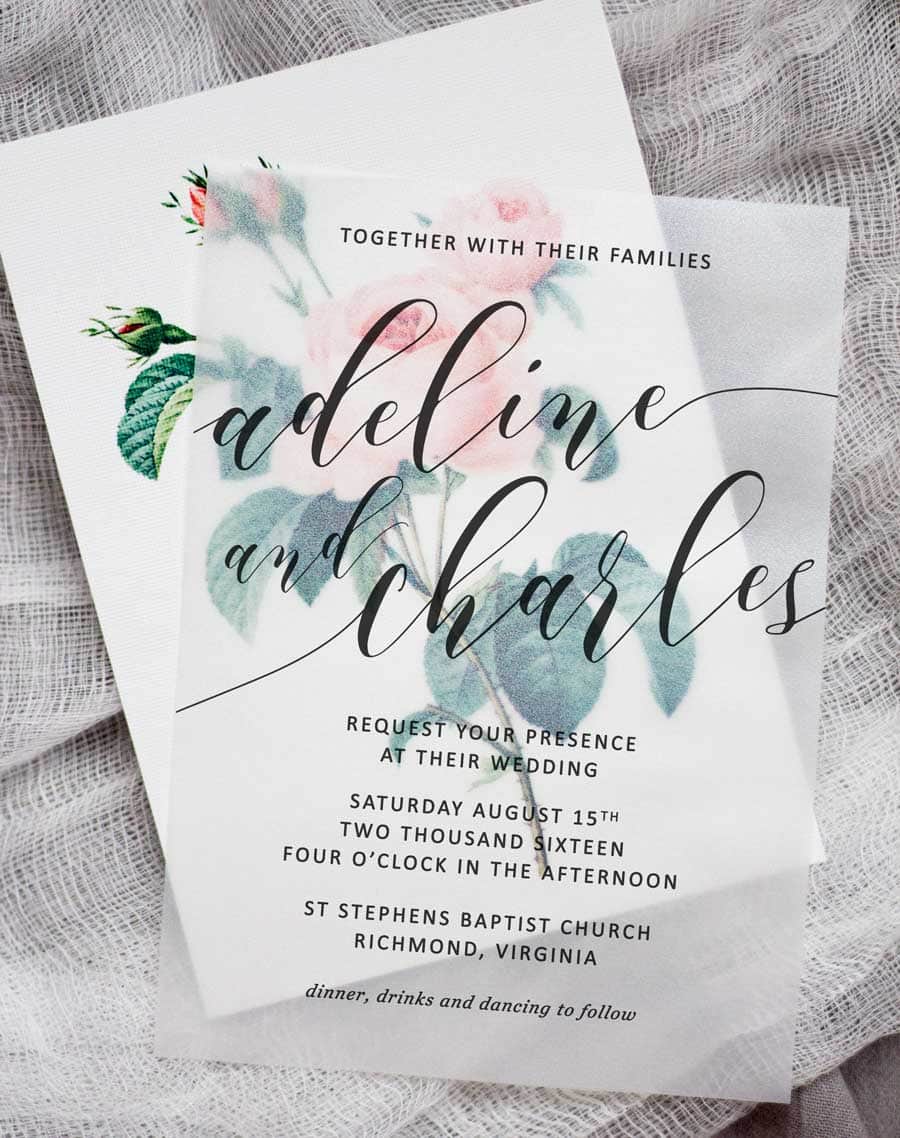 These beauties were made by printing a pretty yet simple invitation template on vellum to give it a translucent effect. Then we layered it over a gorgeous vintage rose illustration printed on heavier cardstock.
Not only does the cardstock give the final invitation some weight (which adds to its charm) but the basket-weave texture of this linen cardstock really shines through giving the rose a hand drawn effect and adding a bit of interest to the end product. Then we fastened the whole thing together with a teeny gold brad to keep everything in order during transit and to add a bit of shimmer and shine.
[Update: I have recently partnered with Paper and More to get you a discount on all cardstock sample packs and printing services. Simply enter pipkinpaperco_referral at checkout to save 5% on your order!]
DIY FLORAL WEDDING INVITATIONS
Materials
White vellum*
Linen cardstock*
Gold brads*
Scissors
Invitation template
Vintage flower print (sign up to get our freebie here)
*Contains affiliates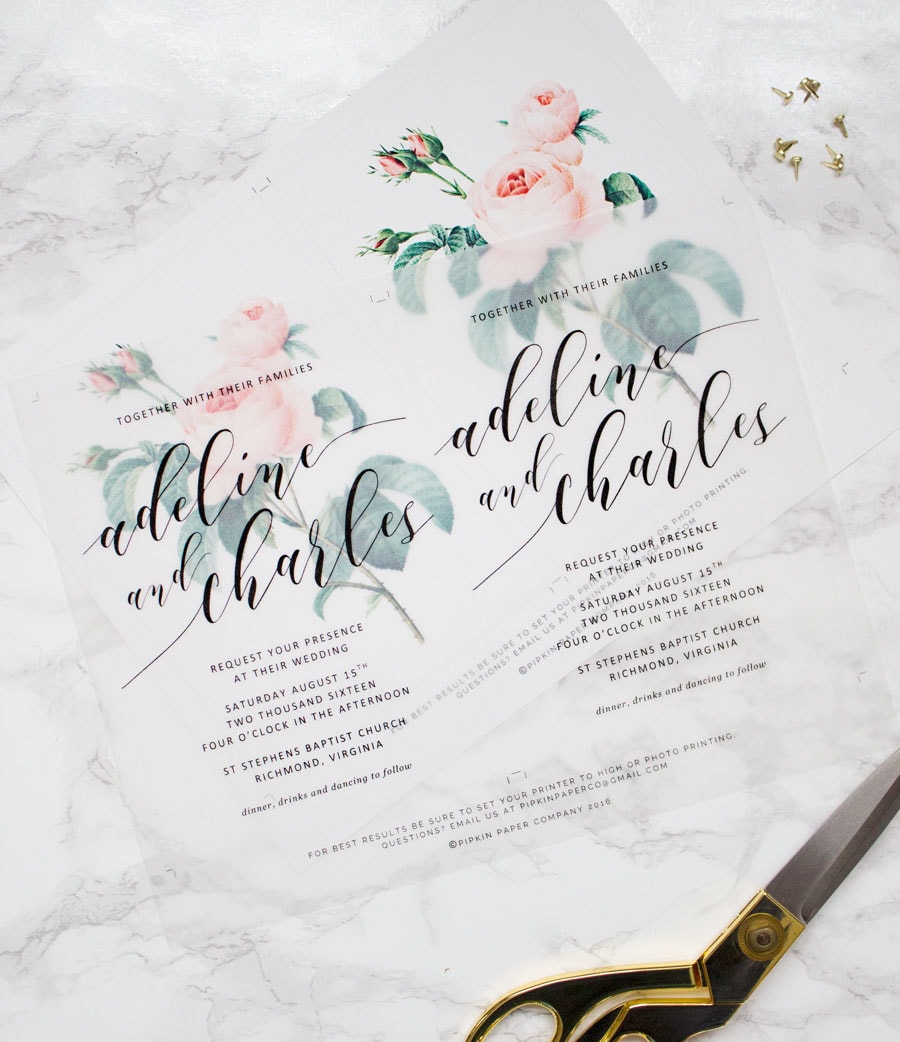 Start by printing your invitations on 8.5 x 11″ vellum. We've received a few questions about printing on vellum, but trust me when I say it couldn't be easier. While I have never had a problem with ink smearing or vellum getting jammed in the printer, the process may require a little trial and error so buy a few extra sheets of vellum just in case. Once you've printed your invites, carefully remove them from the printer tray and let dry for a few minutes before handling them. We recommend printing a few extra invitations in case you do experience some smudging or you make a mistake.
Next, print your floral image on regular cardstock. You can either buy your own flower illustration or you can use ours by signing up for the (free!) resource library here.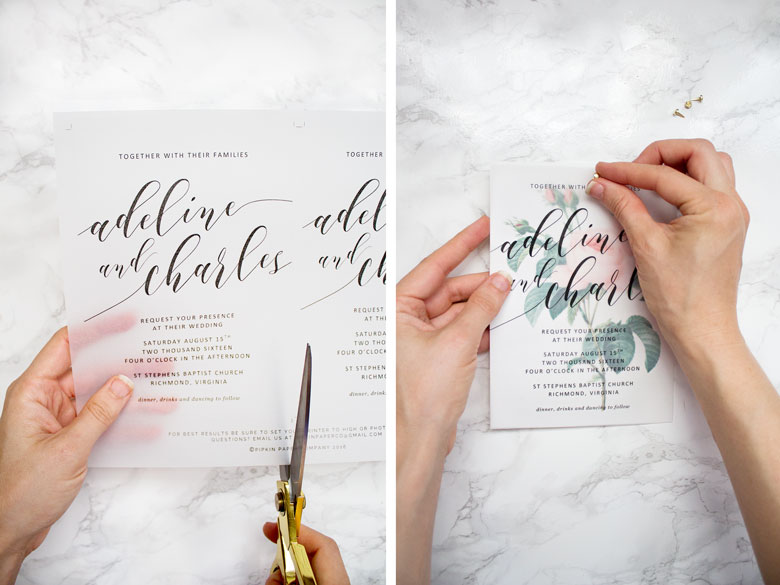 Trim both your invitations and the floral backing. Then layer one of your vellum invitations on top of one of your rose illustrations.
Using the pointed end of one of the brads, make a tiny hole at the top. If you need help getting through both layers, take a sturdy needle or the tip of an X-Acto knife and gently work a tiny hole through the paper. Insert your brad through the hole and pry the tabs apart so it lies flat.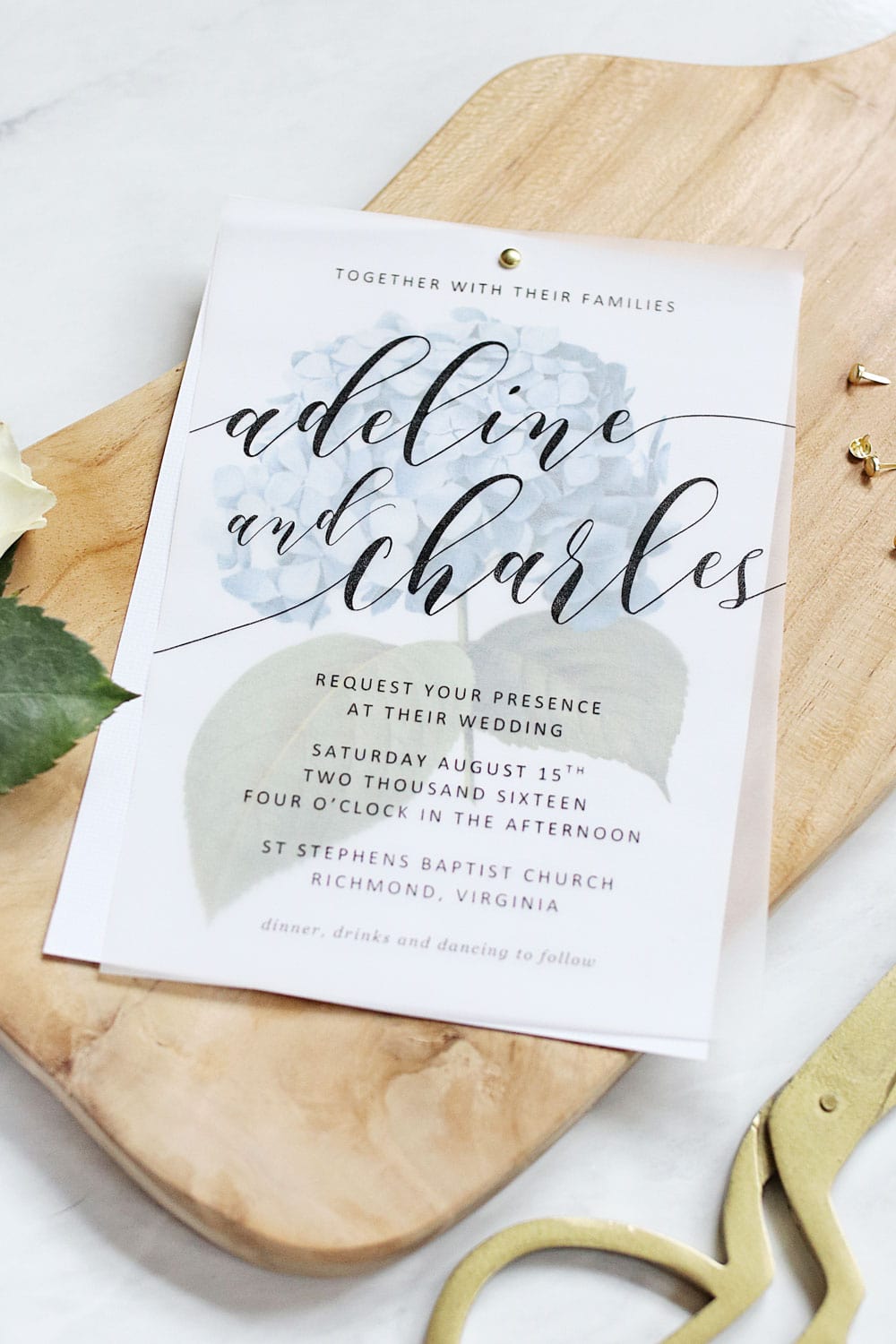 As for the RSVP, you can either print it on vellum to match the invitation or print it on the same cardstock as the rose illustration. Then just pair with a colored envelope to tie the whole thing together.
Voila! Beautiful floral wedding invitations, craftiness not required.
Pssst. We recently added more vintage flower backgrounds to the Resource Library, so sign up to check them out.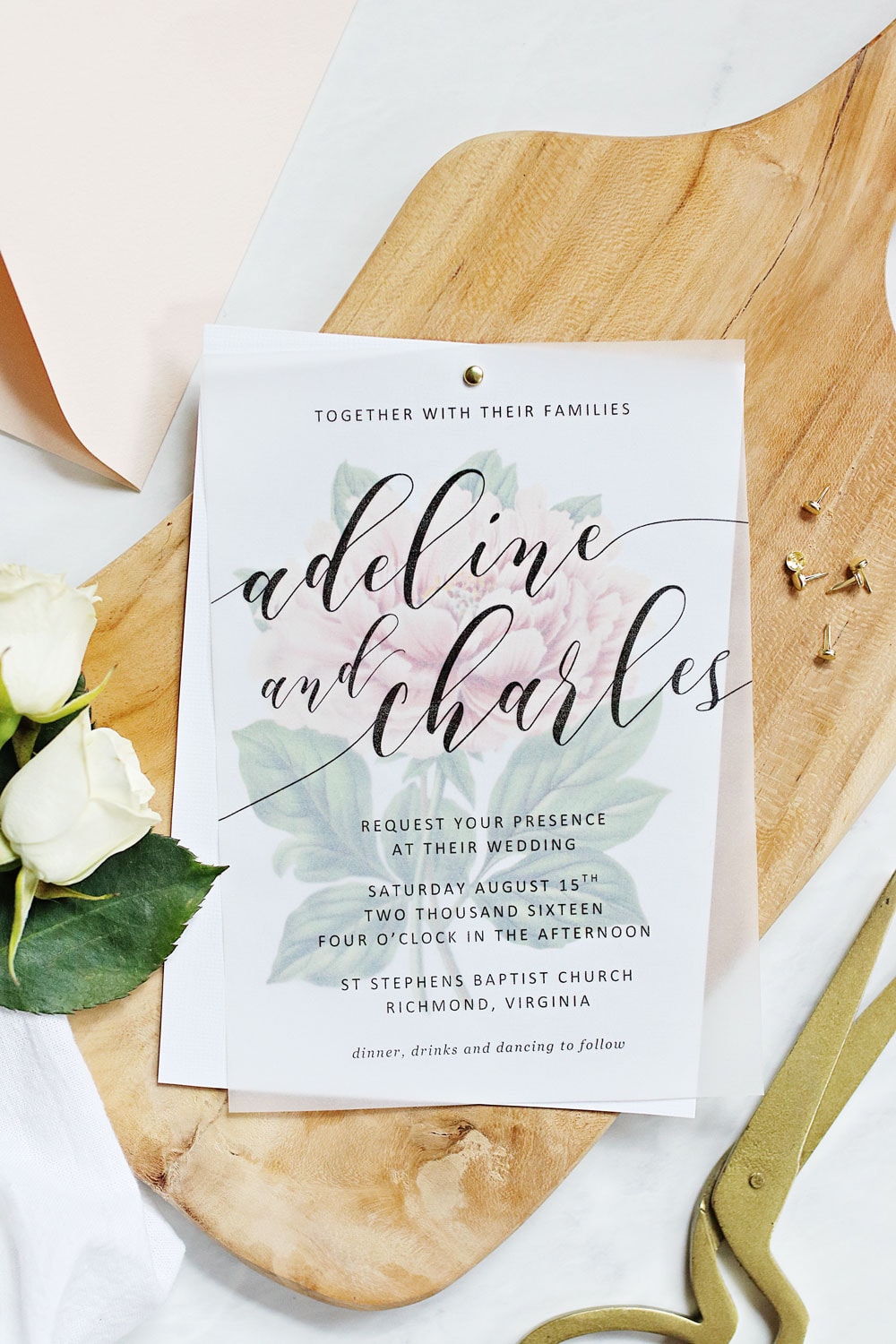 SAVE 5% ON ALL SAMPLE PACKS AND PRINTING SERVICES
Ready to purchase cardstock? Simply enter pipkinpaperco_referral at checkout to save 5% when you purchase sample packs or printing services at Paper and More.