MAKE THESE CUTE SAVE THE DATES FOR FREE!
Remember those pretty rose invitations we made a few months ago with the calligraphy and the vellum? Not only were they a huge hit around here but they're actually some of our all-time favorite invitations. Ever ever. They were so much fun to make that I decided to do something similar with some free save the date templates that we have in the Resource Library. If you'd like to make these lovelies then scroll to the bottom of the post and sign up to get your free templates. And don't forget to check out our post on cardstock if you need some paper recommendations.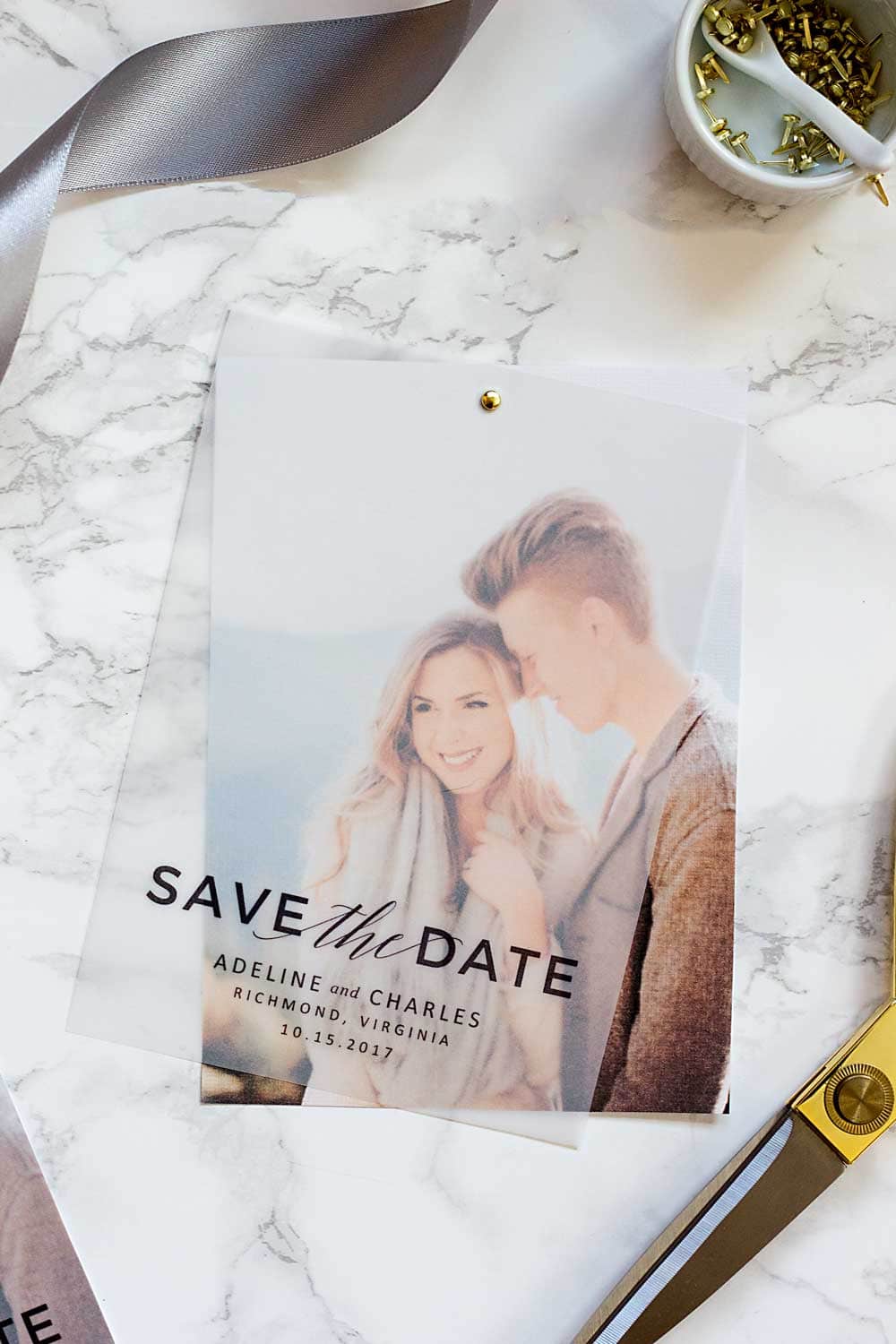 Okay, back to the save the dates.
This time, I chose a couple of gorgeous engagement photos and printed them on my favorite basket weave cardstock. I love a textured cardstock because it adds such a nice character to these cards, especially when layered under dainty vellum. Plus it's perfect for printing at home because the texture hides some of the imperfections that might show up when using a desktop printer (grain or streaks don't stand a chance).
[Update: I have recently partnered with Paper and More to get you a discount on all cardstock sample packs and printing services. Simply enter pipkinpaperco_referral at checkout to save 5% on your order!]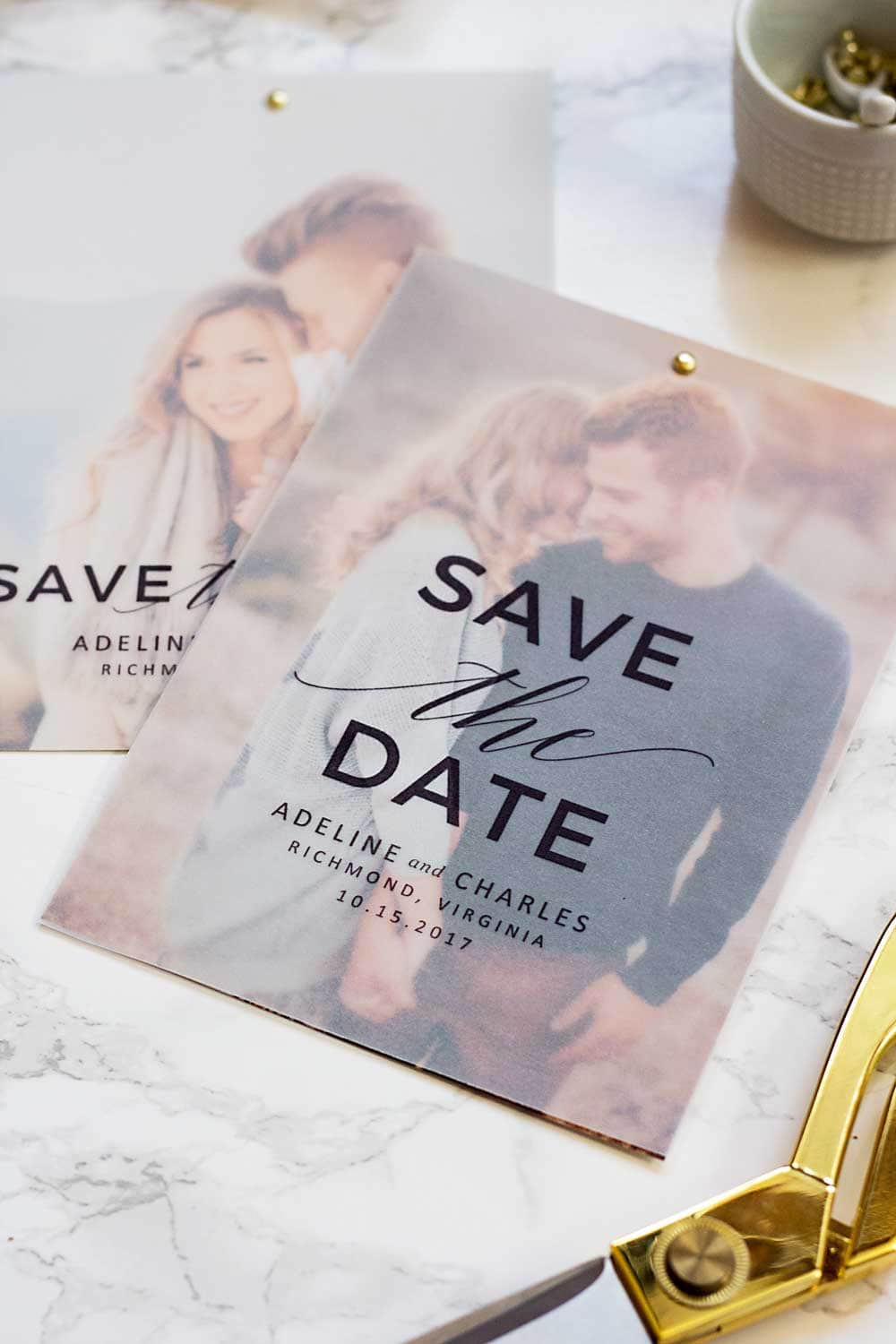 Then I printed a couple of our free save the date templates onto plain white vellum and layered it over the photos. I especially love how the photo takes on an ethereal vibe once you add the vellum. Some photo save the dates can be a little too in your face but these are beautiful and understated, putting the emphasis right where it belongs–on your big day.
And to finish it off, I added a teeny gold brad. It adds a touch of glitz without being too gaudy, which is always a good thing.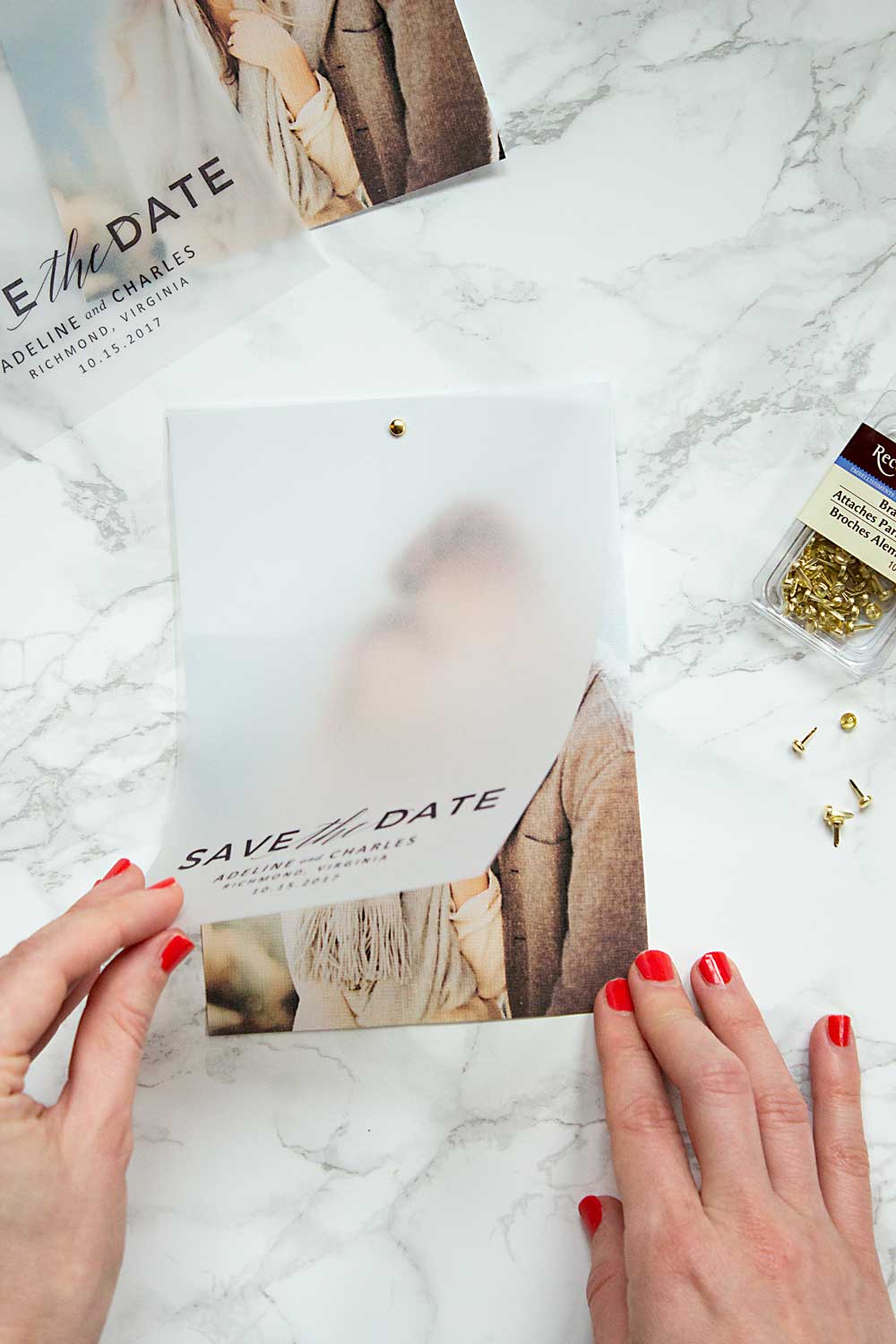 Materials
White vellum*
Linen cardstock*
Gold brads*
Scissors
Save the date templates (sign up here to get your free template)
*Contains affiliates
Instructions
Start by downloading your free template and filling in your details. You'll need Microsoft Word to edit the template, but if you don't have it you can get a free trial version here.
Set your printer to high/photo printing, and print your photo template on standard cardstock and your save the date template on vellum. If you need more helping printing your invitations economically and still making them look like a million bucks, check out our Printing Guide.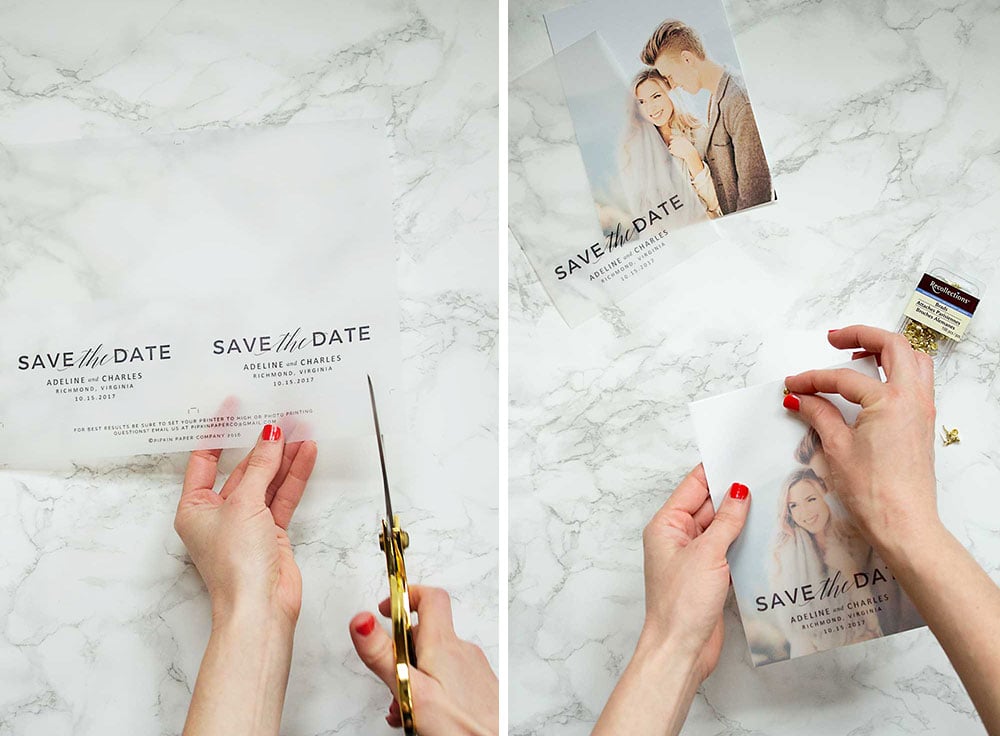 Trim your templates, then layer a sheet of vellum on top of one of your photos. Use the pointed end of a brad to make a small hole along the top center of your card. If you need extra help getting through the two layers of paper, use the pointed end of a sharp knife or a pair of scissors to make a small hole. Pry apart the tabs of the brad and flatten to secure.
That's it! They seriously couldn't be easier to make. Plus look how fun they are…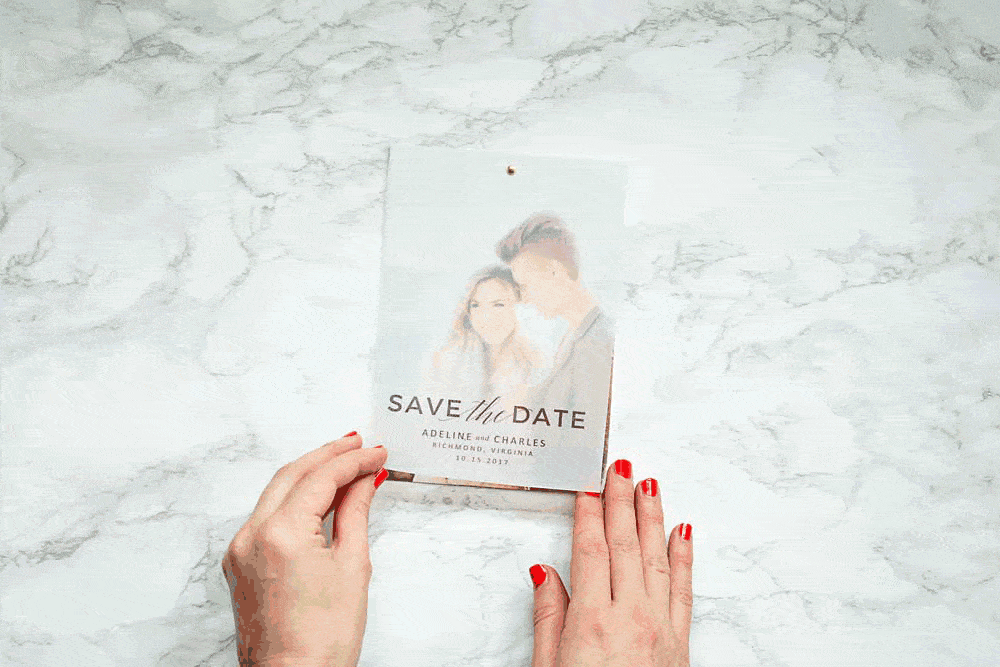 SAVE 5% ON ALL SAMPLE PACKS AND PRINTING SERVICES
Ready to purchase cardstock? Simply enter pipkinpaperco_referral at checkout to save 5% when you purchase sample packs or printing services at Paper and More.