GOLD LEAF WEDDING INVITATIONS
One thing I've never understood is why beautiful, personalized wedding invitations have to be so expensive. Consider me old school (or even a bit naïve), but it's just paper, right?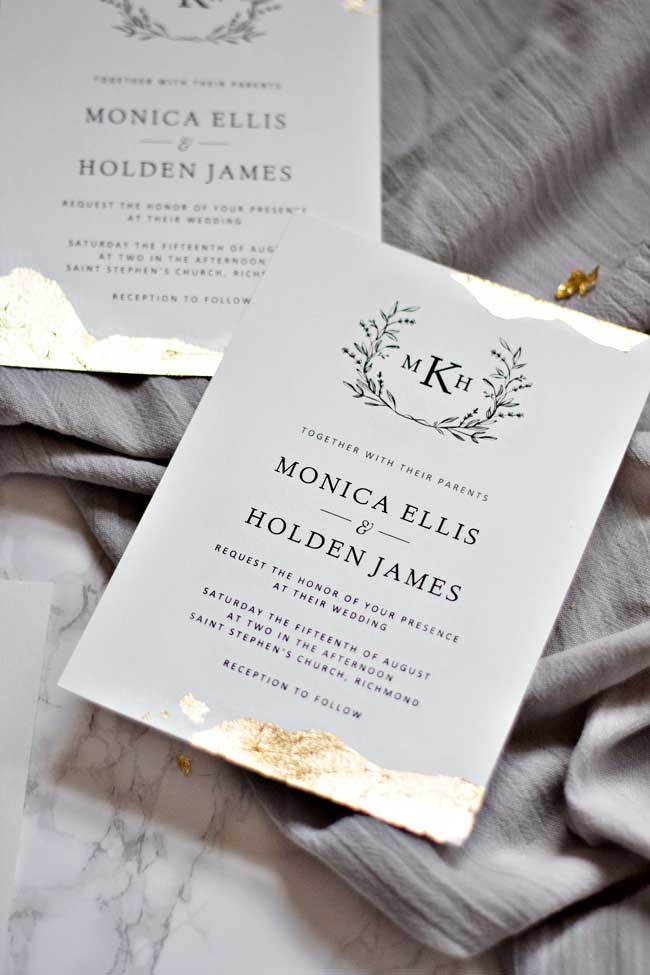 As a designer I know that a lot of blood, sweat and tears go into designing wedding stationery, and sometimes that's where the primo price tag comes from. But just because you're on a budget doesn't mean you can't have the gorgeous invitations of your dreams (that's our motto here at Pipkin Paper Company so you'll be hearing it a lot from us!). With just a little bit of glue and a few sheets of gold foil you can doll up your printed wedding invites and make them look like a million bucks – all while secretly laughing when your guests gush over how pretty and professional they look.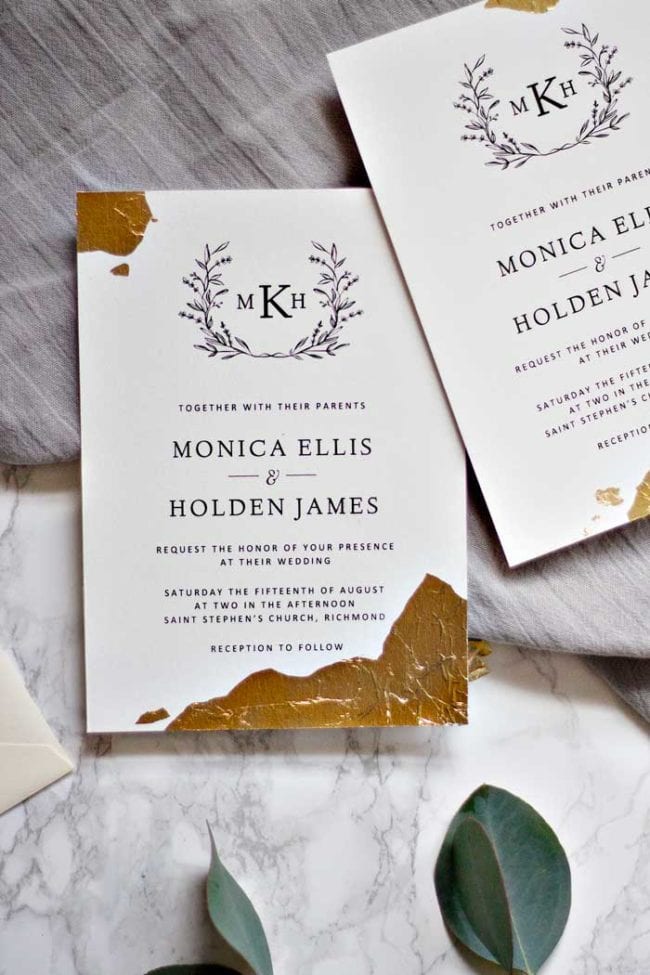 Now I know what you're thinking — you've got 150 invitations to mail out and you can't possibly glue gold foil on each of them — but that's actually the beauty of this little DIY. Gold foil looks best when it's a little chipped and rustic with torn edges and a hint of paper peeking through. You don't need to spend much time for them to look incredible and in fact, the less perfect they are, the better.
It's a DIY dream.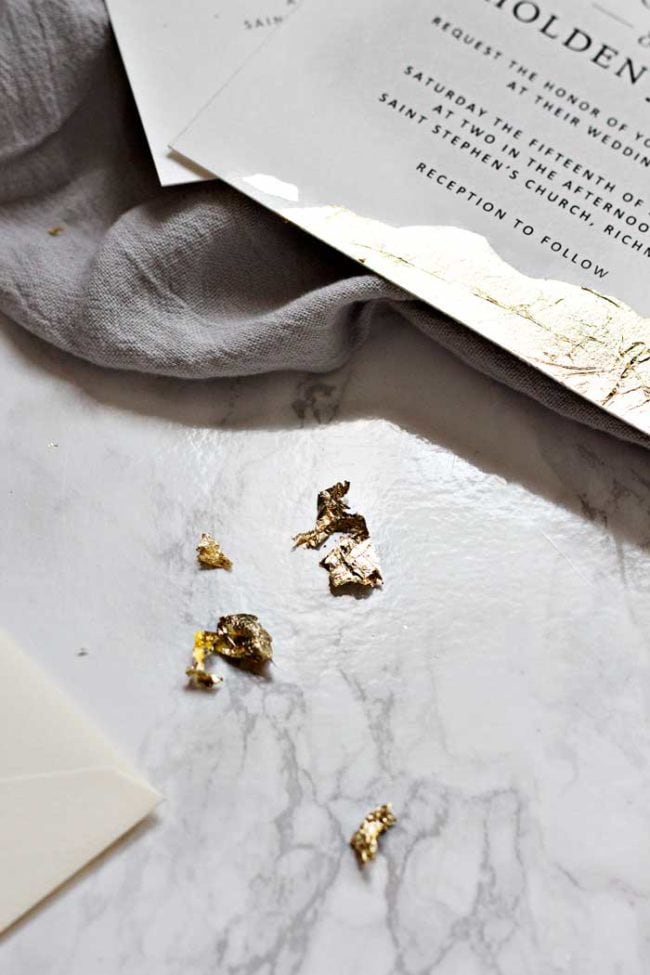 So round up your bridesmaids to make things go a little quicker and trust me when I say you can do this and it will look awesome.
Read on to learn how to make these glinty, gold beauties yourself.
DIY GOLD LEAF WEDDING INVITATIONS
Materials
Heavy duty cardstock
Matte glue (like Modge Podge*)
Gold leaf (we like Mona Lisa brand*)
Paint brush
X-acto knife
*Contains affiliates

Start by printing your wedding invitations on a heavy duty card stock, either at home or using a professional printer. Make sure to print a few extras so you can test out your technique beforehand.
Once your invitations are printed, get started by applying a light coat of matte glue to the bottom edge of the invitation. Try to think about where you're going to be placing the gold foil ahead of time and only apply glue where you need to. This will prevent a lot of excess glue from showing above the gold foil.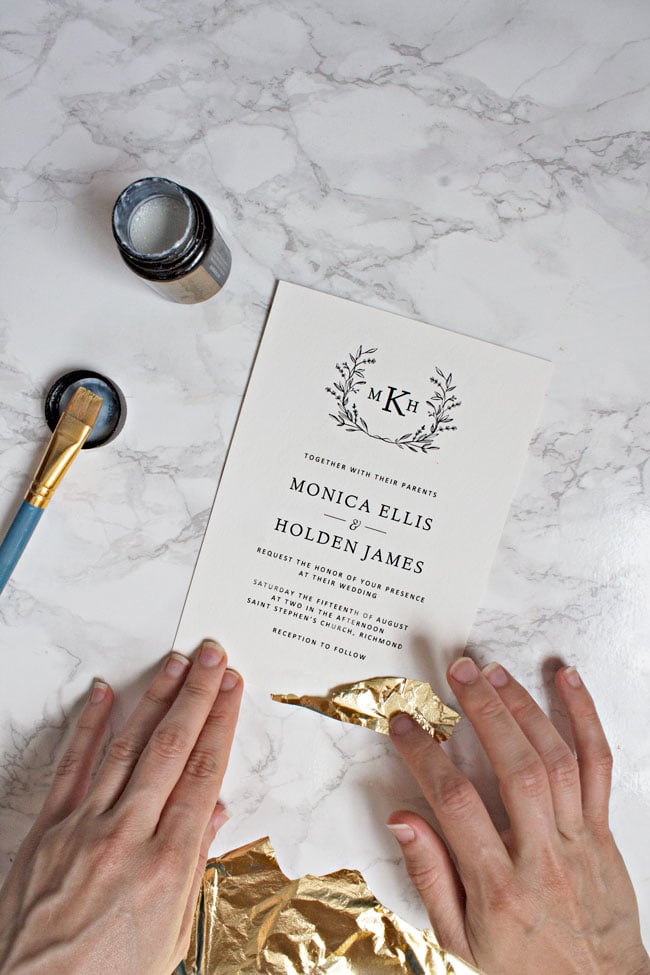 With clean, glue-free hands, tear off a small piece of gold foil. Make sure to tear it unevenly (rather than straight across) to get a jagged, rustic effect. Then gently lay the piece of foil on top of the glue and use your fingers to carefully smooth out the foil and remove any air bubbles.
If you have trouble with the foil sticking to your fingers, dust a little bit of baby powder or corn starch on your fingers before picking up the foil and wash your hands as often as needed to get rid of any glue.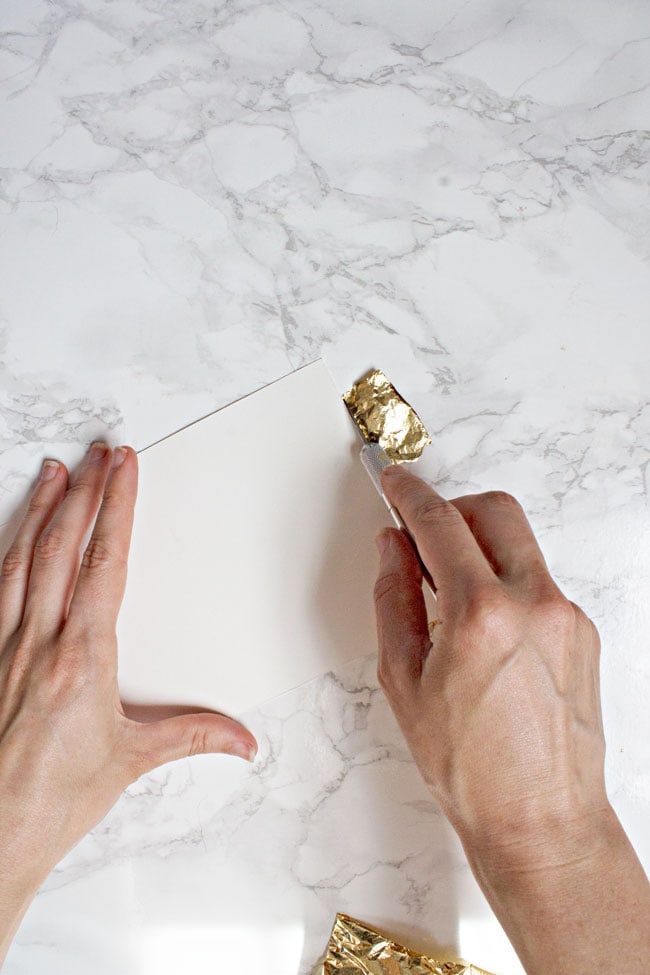 Let your wedding invitations dry for several hours, then come back with an X-acto knife and remove any excess foil that's hanging over the edge of the invitation.
That's it! Once the glue has completely dried, they're ready to start mailing to your friends and family.